'RuPaul's Drag Race' Episode 4 Recap: Morning glory brings 2 winners their crowns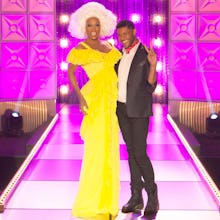 We're four episodes into RuPaul's Drag Race's ninth season, and the shaky, Lady Gaga-focused premiere episode feels increasingly like a fluke. Maybe it was because production had to move quickly to accommodate Gaga — judging from what queens Aja and Sasha Velour told Decider, that's entirely possible — but something wasn't quite right, and it showed.
Every episode since, however, has been an improvement, with the third finally reaching a wildly entertaining place, but hindered by a somewhat convoluted challenge. But nothing compares to the fourth episode, which will go down as that installment that took season nine from good to truly great.
Using this excellent episode as a guideline, let's go through the reasons why RuPaul's Drag Race's current season is shaping up to be its best non-All Stars run since season five.
The challenges
The last few seasons of Drag Race, All Stars season two included, have followed a pretty strict formula when it comes to challenges. There's a sewing challenge, an acting challenge or two, the snatch game, a comedy challenge or two, the ball and shooting one of RuPaul's music videos. Riffs on this formula, like season seven opening with a fashion runway challenge instead of a sewing task, have previously felt unwelcome.
But this year, Drag Race's producers wisely decided to mix things up. The cheerleading challenge was totally unlike previous performance tasks, while the princess-and-sidekick trial gave the usual sewing challenge a bizarre, performance-based twist. 
This week, the queens are charged with taking the helm of a morning talk show à la Today or Good Morning America. This is reminiscent of season three's "QNN News" episode, but changes it up by not giving the queens a chance to correct mistakes. This is live, and judge Ross Matthews is there to usher them through it. It's the kind of challenge that demands wit, improv skills and boldness — the best kind of Drag Race challenge, truly.
Drama, drama, drama
If season eight had a problem that kept it from being an all-time great season, it wasn't the repetitive challenges — it was the too-friendly vibe among the queens. It's great to see the girls on this show grow together, but any minor dramas last season were solved too quickly or swept under the rug. Reality competition runs on personality conflicts, and last season had practically none.
This season's girls, on the other hand, came to play. Aja follows up a truly iconic performance in the third episode of Untucked — in which she went after Valentina out of anger with her own performance in the episode — by continuing to criticize Valentina. Aja harps on not understanding what the judges see in this season's resident Los Angeles queen, while Valentina is too busy keeping her eyes on the prize.
The girls do have a redemptive moment later, one that feels earned and realistic. But as soon as that conflict dies, Eureka (O'Hara) and Sasha Velour get into it, with Sasha urging Eureka not to make jokes about eating disorders and Eureka being the absolute bitterest betty about it. 
There's no resolution, and the fight gives the workroom segment some real juice. Yes, there are heartwarming moments, like Cynthia Lee Fontaine and Charlie Hides bonding over the former's experience in HIV/AIDS prevention efforts and the latter remembering those friends she lost in the epidemic. Those more powerful emotional moments keep Drag Race from becoming too catty or antagonistic, but its the conflict that provides the thrills. 
The same goes for when Ru asks the queens on the losing team who should go home: The shade-throwing and reading on the runway leaves us stoked for Untucked on Saturday morning.
Stellar performances
What makes Drag Race special in the reality TV field is simply how much it demands of its contestants. This is not a one-skill show, like Project Runway with sewing or Survivor with, well, survival. Drag Race requires knowing how to model, do comedy, put together outfits, dance, lip sync, think on your feet and still make for good TV. So when a queen delivers an ace performance, there's nothing else like it.
This week sees three queens rise to the top, two in the challenge and one in the lip sync for your life. As hosts of the cooking segment on Good Morning Bitches, Sasha and Shea Coulee infuse every moment with the most palpable sexual tension. They have Ross Matthews cracking up in the director's chair, and the other members of their team can't help but burst into laughter when they cut to commercial. It's a truly hilarious duo performance.
The lip sync, on the other hand, was no joke. The other queens need to watch out, because no one this season — save maybe Aja — will stand a chance against Miss Trinity Taylor in a lip sync. Frankly, she doesn't have much competition, as we'll explore in a second, but that doesn't stop this season's Orlando, Florida, queen from turning out every trick in the book on Britney Spears' "I Wanna Go." With dancing skill reminiscent of queens like Kennedy Davenport, Chi Chi DeVayne and Alyssa Edwards, she fully gives over to the song.
It's no surprise at all when RuPaul asks her to stay, especially considering what her competition was offering. But Trinity's message to the other girls is clear: Underestimate her at your peril.
The judges
When Ross is present, Drag Race has the best panel of judges currently working on TV. It took a minute to get there; the judges on Drag Race have never been the show's strong suit, what with duds like Santino Rice and Todrick Hall and decent-at-best Merle Ginsburg and Carson Kressley. Michelle Visage, when she's on her game, is brutal, hilarious and unparalleled in the intelligence department. Her chemistry with Ru is also unreal.
Ross, on the other hand, brings a sense of joy to the proceedings. He's still quite smart, and he offers remarkably on-point critique: He wins major points this week for not babying Nina Bo'Nina Brown when she breaks down before judges' comments and warns her that she needs to prepare for a rigorous competition. He delights in Ru's and Michelle's jokes, and is just generally fun to have around.
The guest judges this episode also bring their A-game. Glee's Naya Rivera, the celebrity guest during the challenge, is remarkably blunt for a day player, while Unreal's Jeffrey Bower-Chapman doesn't let his love of the show (Ru calls him a "superfan") get in the way of offering great critiques.
There's a different energy on the panel this season. Every one of the judges' interactions feels fun without sacrificing seriousness. It's truly enjoyable to watch their segments — and makes us realize how much we missed them during All Stars season 2.
Queens keeping it real
These girls are not afraid to leave it on the floor. Whether Nina's crying and offering up her heart on the runway, or Charlie's talking about burying her best friends or Eureka and Trinity are going at each other over feuds new and old, there's no artifice for the camera. Season nine's queens are owning their shit, and it's refreshing.
That said, there are some consequences for that: When it comes time to lip sync, Charlie stands in one place and basically refuses to perform. "99% of the acts in London sing live," she explains in her confessional. "So I just need Ru to say it: Sashay away." It's the first time a queen has outright given up since season one, when Tammie Brown refused to lip sync against Akashia and merely danced in place. 
It's a bummer, because Charlie is clearly a talented performer, but that's the price of keeping it real: Occasionally, you'll stop being charming and start showing your ass. It's a brutal end for Drag Race's first-ever U.K. queen, but there's simply no doubt she was the right choice to go home.
Eleven queens remain in the fight to win the crown. Who will go next? We'll find out when RuPaul's Drag Race returns Friday at 8 p.m. Eastern on VH1.
Mic has ongoing RuPaul's Drag Race coverage. Follow our RuPaul's Drag Race main hub.