Windows 7 and 8.1 Kaby Lake and Ryzen Gaming: New CPUs with old OSes blocked from updating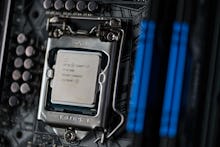 Microsoft is sticking to its plans to keep anyone using Windows 7 or Windows 8.1 with an Intel Kaby Lake or AMD Ryzen CPU from updating their operating system, according to PC Gamer. 
Microsoft announced plans to block updates to new systems in January 2016, though at the time they were targeting systems with Intel's Skylake processors. This policy was rescinded in part, however, and most systems running Skylake could continue getting updates for Windows 7 and 8.1. 
Unfortunately for PC gaming enthusiasts who have been avoiding Windows 10, Microsoft's blocking of updates on older OSes for Kaby Lake and Ryzen means they'll have to add the cost of Windows 10 if they decide to upgrade their systems.
Windows 7 and 8.1 Kaby Lake and Ryzen gaming: How to tell if you're affected by Microsoft's update blocking
While a lot of PC gaming enthusiasts will already know if they're using a Ryzen or Kaby Lake system, those that have a prebuilt model or a gaming laptop might be confused as to what generation their CPU belongs to. One way to know for sure is if the following message appears when you try to use Windows Update:
Your PC uses a processor that is designed for the latest version of Windows. Because the processor is not supported together with the Windows version you are currently using, your system will miss important security updates. Please select the 'Learn More' link to address the situation,
Up until now, Microsoft had not been actively blocking updates to Kaby Lake and Ryzen systems running Windows 7 or 8.1, so even if you had one of those models of processors, you may not have been affected by this issue until now.
Windows 7 and 8.1 Kaby Lake and Ryzen gaming: How to fix Windows Update being blocked
Unfortunately, Microsoft is blocking updates to Ryzen and Kaby Lake systems running Windows 7 or 8.1 regardless of model. When you install Windows to a PC, it identifies what kind of CPU you're running, and it reports that information to Microsoft when you request an update. There's no way to bypass this sort of check and keep a legitimate copy of Windows 7 or 8.1. Instead, to continue getting regular Windows 10 updates on a PC with a Kaby Lake or Ryzen CPU, you'll have no choice but to buy Windows 10.
Windows 7 and 8.1 Kaby Lake and Ryzen gaming: How to upgrade Windows 7 and Windows 8.1 to Windows 10
Microsoft ended its free Windows 10 upgrade program in July 2016. However, as of April 11, there's still a loophole to get it, according to Alphr. While the original Windows 10 upgrade tool will just tell you that the update period has ended, there's a second download tool hidden away on Microsoft's website that will allow you to get Windows 10.
You can download the "Windows 10 free upgrade for assistive technologies" upgrade tool and, upon executing it, it'll download Windows 10 and install it to your Windows 7 or 8.1 system. This will transform your Windows 7 or 8.1 key into a Windows 10 key as well, so you'll have gotten Windows 10 for free. It'll even update to the Windows 10 Creators Update, which is the latest version of Windows 10. If you're gaming on Windows 7 or 8.1, and your rig has a Kaby Lake or Ryzen CPU, you better act fast. There's no telling when Microsoft will close the assistive technologies loophole and leave you stuck purchasing Windows 10.
More gaming news and updates
Check out the latest from Mic, including our deep dive into how female Overwatch players are dealing with online harassment, an article about a fan movement advocating for more same-sex romance options in Mass Effect, a cool making-of video for Legend of Zelda: Breath of the Wild and an article about what a Bechdel test for gaming might look like.