Love Pocky? These 9 desserts put the Japanese candy front and center.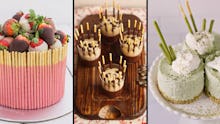 Good things come in small packages. 
Case in point: Pocky, the chocolate covered biscuit sticks that hail from Japan. The candy is crunchy, chewy, sweet and functional. The little biscuit "handle" that doesn't have chocolate means the candy melts in your mouth and not in your hand. (You've met your match, M&Ms.) 
Pocky burst onto the candy scene in 1966 and is named after the crisp snap the candy makes when you break it. In the U.S., consumers can buy original (chocolate), strawberry, matcha green tea, chocolate banana and cookies & cream flavored Pocky. 
Any dessert will be instantly better with Pocky. Don't believe us? Check out the nine desserts below that slim and elegant Pocky sticks are a creative and fun accessory to, including cakes, cupcakes, mousse and any dessert your heart desires. 
Strawberry Pocky cake with chocolate-dipped strawberries 
Use strawberry Nesquick in the frosting for this pink cake to up the strawberry factor. Pink Pocky adds an elegant touch to this picture-perfect dessert. Get the recipe here. 
Pocky chocolate cage
These pint-sized chocolate cages make for the ideal individual dessert. Who wouldn't feel special being served one of these cuties? Chocolate cream and banana mousse get an upgrade when you add chocolate pocky for extra flair. Get the recipe here. 
Matcha no-bake cheesecakes with green Pocky
The crust for these cheesecakes includes matcha green tea Pocky, so don't forget to reserve some of the green sticks as decoration. Get the recipe here. 
Pocky hedgehog cupcakes
Sonic the Hedgehog would definitely be crushing on these darling desserts. Buy strawberry, banana and regular Pocky so you can have a multicolored pack of hedgehog cupcakes. Get the recipe here. 
Hello Kitty cake with Pocky whiskers 
You need to make this right meow. Pay respect to the famous Kitty with this cake that features strawberry lemon frosting. Get the recipe here. 
Chocolate and strawberry Pocky cake
Two types of Pocky make this cake twice as nice. The filling is made from leftover chocolate cake mixed with condensed milk. Oh, yes. Get the recipe here. 
Animal cupcake toppers
Combine donut holes with Pocky sticks and voila — you've got animal heads waiting to be given a face. Stick these animals on cupcakes for your next event and guests will swoon. Get the recipe here. 
Pocky granola
This crunchy and sweet granola gets a hint of green tea thanks to matcha Pocky. It's perfect for layering with cheesecake, like the recipe suggests. Get the recipe here. 
Vanilla cake with cheesecake Pocky
We'd say "I do" to this bridal-white cake. With raspberries inside and on top, you'll get a burst of juicy sweetness balancing out the cake with each bite. Get the recipe here.