11 grad gifts that aren't monogrammed towels or copies of 'Oh, the Places You'll Go!'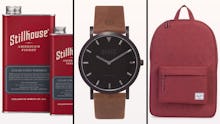 Graduation season is upon us, which means celebrating students in our lives who have worked hard to make it to their next phase of life. They deserve a gift. And more importantly, they deserve a gift they'll get some practical use out of in said phase — regardless of whether that's college or the workforce.
For the tech lover, we recommend some great speakers for a dorm room or apartment. If they'll be working on a laptop all day, we've found the glasses that provide digital screen protection. And if your graduate isn't the greatest cook, a subscription service could bring homemade meals straight to their door.
See all the thoughtful gifts we found for your favorite graduate in the list below.
(Editor's note: Prices and product availability are subject to change.)
In such a digital society, having physical copies of photos can be a treat. Give the gift of memories caught on camera with a customized photo book.
2. JBL Flip 4 Bluetooth Speakers: $99.95 
Partying post-graduation is a given — sorry, parents! This waterproof speaker wirelessly connects to two smartphones or tablets, has an audio playtime of 12 continuous hours and offers dual-bass radiators.
3. Rebecca Minkoff Jules Satchel: $375
Everyone needs a carry-all bag large enough to hold a laptop, but not so bulky it makes commuting a nuisance. This black leather satchel from Rebecca Minkoff is a thoughtful gift for the graduate who's immediately entering the workforce.
4. Furla Electra Cosmetic Case Set: $148.50
These vibrant leather bags have multiple compartments perfect for storing toiletries. For traveling or just keeping makeup and hair products organized, this set is a practical winner.
5. Stillhouse Whisky 375ml Roadie: $29
Small enough to fit in a back pocket, an of-age college graduate may need a hard drink after weeks of finals and packing. Affectionately called the "roadie," these whiskies come in six delicious flavors, though we're personally fans of the peach.
6. EyeBuyDirect Prism Glasses: $65
A part of EyeBuyDirect's new RFLKT collection, these glasses are all handmade from Italian cellulose acetate, stainless steel or wood. These specific frames come in nine different colorways, and all of EyeBuyDirect's products have digital screen protection from blue light.
7. Foot Cardigan subscription: $9 a month
Adulting means washing clothes and inevitably losing a sock in the laundry. A subscription to re-up their sock drawer is a great gift for graduates. Foot Cardigan delivers themed and super-soft socks every month for less than $10.
8. Shore Projects Falmouth Watch: $165
Said to be inspired by "venerable explorer watches," this timepiece from Shore Projects makes for a thoughtful and classic gift. Handcrafted in the United Kingdom, the watch's strap can be swapped out for a number of styles.
9. Marc Jacobs Beauty — The Collection Makeup Brush Wardrobe: $250
A good set of makeup brushes is clutch for entering the workforce. This beautiful set of seven brushes by Marc Jacobs Beauty helps your graduate evenly apply foundation, contour, highlighter and blush.
10. Herschel Winetasting Crosshatch Classic Backpack: $44.99
If handle bags aren't your thing, a backpack is a great option for evenly distributing weight on your future college student's shoulders. Herschel is a respected brand know for well-made backpacks that come with convenient pockets suited to fit both Apple and Android products.
Cooking from home on a regular basis can be really difficult when you first start a full-time job. To help your graduate eat both healthfully and conveniently, Green Chef offers all types of meal plans based on diet preference.