Trump has spent $35,000 on golf cart rentals since becoming president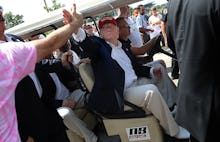 All this time on the green is costing taxpayers some serious green. 
President Donald Trump's numerous trips to Mar-a-Lago to golf have been well-documented, as has their cost to the American taxpayer. A new report from CBS News breaks down some of the costs from each of the president's outing, each of which carries a hefty $3 million price tag.
In a review of purchasing orders from the Secret Service, CBS News found that the agency has spent $35,185 on golf cart rentals in Palm Beach County, Florida, since Trump's inauguration in January. 
The mounting costs don't stop there. Another purchase order reportedly shows a $64,000 bill for elevator inspections at Trump Tower in December. According to a Secret Service official, "elevator inspection is one of many protective operational measures utilized by the Secret Service."
In the time since inauguration, taxpayers have also spent $190,000 on car rentals and hotel accommodations for Trump, his son Eric and the agents who protect them. 
In an email, the Secret Service did not specify whether Trump's golf carts were busting the budget. 
"For security reasons, the Secret Service cannot discuss the means, methods, specific resources, costs, or numbers we utilize to carry out our protective responsibilities," the Secret Service said in a statement. 
According to CBS News, the Government Accountability Office is working to determine how much Trump and his families' jet-setting lifestyle has cost taxpayers. 
According to an analysis earlier in April, Trump has visited a Trump-owned property, like Mar-a-Lago, every 2.8 days in his presidency and teed off every 5.6 days. Trump was frequently critical of former President Barack Obama for his golfing expeditions. 
Luckily, when it comes to Trump, we have the most important thing: receipts.