April the giraffe finally gave birth — and you can watch it live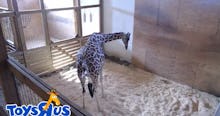 It happened.
After months of anticipation, and a bygone April Fools' Day due date, April the giraffe of New York's Animal Adventure Park finally gave birth. 
On Saturday morning, Animal Adventure Park and local news stations started heralding the arrival of April's calf, whose two hooves were dangling out of April's body on camera. 
April has been on birth watch since Feb. 23, almost two months ago. 
Anticipation for April's calf reached such a fever pitch, as Animal Adventure Park began a text alert service to tell people of her baby's arrival. After all the build-up, once news arrived that April's baby was on its way, the internet freaked out. 
Apr. 15, 2017, 10:21 a.m.: This story has been updated.