Here's the obvious reason your taxes are not due on April 15 this year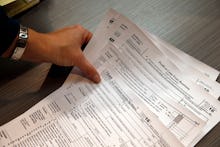 If you woke up in a cold sweat April 15 and thought, "My taxes! I've forgotten to do my taxes!" — fear not. You have a few days left to file.
Normally, April 15 is Tax Day.
But when that date falls on a weekend, as it does this year, your taxes are due the following business day. 
This year, you have even more time, though, as Monday is Emancipation Day, a legal holiday in Washington, D.C. That means Tax Day this year is Tuesday, April 18.
So if you're one of the 20% to 25% of Americans who procrastinate on your taxes, you've got a few more days to take care of them or request an extension.