Tax March 2017: Activists to march on Mar-a-Lago to demand Trump release his tax returns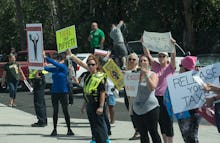 Activists will march on Mar-a-Lago as part of a national protest Saturday to demand President Donald Trump finally release his tax returns.
Trump is spending Easter weekend at Mar-a-Lago — the seventh trip he's taken there since assuming the presidency in January.
Protesters in Florida will march to the entrance of the private Palm Beach resort from Trump Plaza in West Palm Beach, Florida, at noon Saturday. 
About 2,000 demonstrators are expected to take part in the Mar-a-Lago march, organizers told the Palm Beach Post. Organizers for the Palm Beach march include For Florida's Future and Tax March.
Mar-a-Lago demonstration part of national Tax March protest
Protests are scheduled in Washington, D.C., and across the country Saturday as part of the national Tax March protest. 
"We believe that public servants must be accountable to the people who elect them," according to organizers. "The public has a right to understand the financial relationships and potential conflicts of interest of their elected leaders. Therefore, President Trump must immediately release his full tax returns, as all presidents and major-party presidential candidates have done for the last 40 years."
Mic is reporting live from the protest in D.C.
Trump broke with precedent during the campaign when he refused to release his tax returns, saying he could not release them because he was under audit — an excuse the Internal Revenue Service said wouldn't bar him from making his returns public. 
He still hasn't released his tax returns as president, with his administration arguing that "people didn't care."
But polls have shown that a majority of Americans do care, and the tax marchers hope to make that clear to the president on Saturday — just ahead of Tax Day on April 18.
The march in Washington, D.C., will begin with a rally outside the U.S. Capitol. Protesters will march past Trump International Hotel to the IRS building, with a roster of speakers including Rep. Maxine Waters, Sen. Ron Wyden and Rep. Jamie Raskin, according to a press release. 
Other marches are taking place in cities across the country on Saturday, including New York City, Los Angeles and Chicago. 
"We march because we will not stand by while the rich and the powerful govern this country guided only by their personal best interests," organizers wrote, "and not the best interests of the American people as a whole."
April 15, 2017, 2:44 p.m.: This story has been updated.