North Korea Military Parade: No nuclear test, but North Korea shows off missile arsenal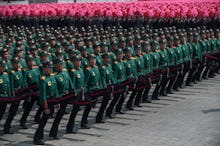 Against the backdrop of rising tensions with the United States, North Korea showed off new missiles in a military parade Saturday marking the birth of the country's founding leader, Kim Il Sung.
Current leader Kim Jong Un looked on as soldiers marched with tanks, missiles and rocket tubes through a plaza in the North Korean capital of Pyongyang, the New York Times reported.
North Korea showed off what appeared to be three long-range missiles, at least one apparently new. But there had been fears that the isolated country would mark the Day of the Sun by conducting a nuclear test — in defiance of U.S. warnings not to.
The United States was reportedly ready to strike North Korea if U.S. officials became convinced the country would carry out its test, and the Trump administration said its "strategic patience" with the country has run out. 
"North Korea is a problem," President Donald Trump told reporters Thursday. "The problem will be taken care of."
But South Korean analysts said Kim decided not to conduct the nuclear test, instead holding a parade meant to show off North Korea's military might.
The display raised concerns that North Korea has developed intercontinental ballistic missiles that would allow the country to attack the mainland U.S. and Europe, according to CNN. The ICBMs would be the largest weapons the country has produced.
North Korea also showcased short-range missiles Saturday that could threaten its neighbors in Asia.
"It certainly appears to be a message to the United States that they're capable of threatening the U.S. homeland," Adam Mount, a senior fellow at the Center for American Progress, told CNN. "That's certainly their objective."
Last week, the United States positioned two destroyers capable of launching a missile attack in the region amid concerns North Korea was preparing a nuclear test. Analysts warned that a strike against North Korea would likely escalate, and North Korea said Friday that "thermonuclear war may break out at any moment."
China on Friday warned North Korea, its ally, and the United States to de-escalate tensions before the situation in the peninsula reached "an irreversible and unmanageable stage."
The Trump administration still has not ruled out military options in dealing with North Korea, according to the Times, and on Saturday, North Korean officials continued its tough talk against the United States.
"If they attempt a full-scale war, we will respond with a full-scale war," Choe Ryong Hae, a senior official in the ruling Workers' Party and a key aide to Kim, said in a speech before the parade, the Times reported. "If they start a nuclear war, we will respond with nuclear strikes."