Pizzagate truther Mike Cernovich to drop "motherlode" of secrets if Steve Bannon is fired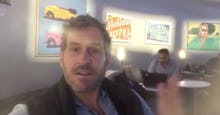 His lips are sealed — for now. 
With rampant infighting leading to the #FireKushner and #FireBannon movements online, alt-right writer Mike Cernovich threatened to release truckloads of dirt on various members of the Trump administration if Steve Bannon were to get the heave-ho. 
On a Periscope session Thursday night, Cernovich said he had a series of scoops that he would release if Bannon were given the pink slip from his role in the Trump administration. 
"If they get rid of Bannon, you know what's gonna happen?" Cernovich said.  "The motherlode. If Bannon is removed, there are gonna be divorces because I know about the mistresses, the sugar babies, the drugs, the pill popping, the orgies. I know everything.
"If they go after Bannon, the mother of all stories is gonna drop, and we're just gonna destroy marriages, relationships — it's gonna get personal."
Trump recently demoted Bannon off the National Security Council, and rumors have been circulating about whether the former Breitbart chairman's White House days are numbered. 
The Daily Beast contacted Cernovich to ask who he was referring to when he said "they," but Cernovich did not respond. 
Cernovich has a fan base on the right wing. Kellyanne Conway tweeted about his appearance on 60 Minutes. Donald Trump Jr. tweeted that Cernovich deserves a Pulitzer Prize for his journalism, the Daily Beast reported.
According to the Daily Beast, Cernovich instigates many conspiracy theories on his Twitter feed, including Pizzagate, the notion that Hillary Clinton was living through multiple illnesses during her candidacy and that she wore an earpiece during a candidate forum.