Megyn Kelly left Fox News in part because of Bill O'Reilly, according to report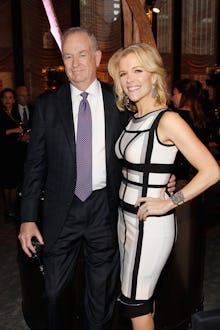 Megyn Kelly ditched Fox News for NBC earlier this year — and a big reason for that jump was alleged serial sexual harrasser Bill O'Reilly, according to the New York Times. 
After Kelly wrote in her recent memoir that she had been the victim of repeated sexual harassment by former Fox chairman Roger Ailes, O'Reilly defended Fox News as a "good place to work" in two public admonishments of his colleague's accusations.
"Let's whack the Fox News Channel," an irritated O'Reilly said. "I've had enough of it. It's a good place to work. Alright?"
Those comments — as well as a statement by O'Reilly that if Kelly doesn't "like what's happening in the workplace, go to human resources or leave" — led Kelly to believe the culture at the network was not going to change and helped precipitate her decision to leave, sources said to the Times.
Kelly left her job at Fox in January after 12 years with the network. She is due to begin anchor duties at NBC in fall, and there are reports that her new network is attempting to land Russian President Vladimir Putin as her first interview. She has not commented on the Times report about her decision to leave Fox.
O'Reilly is on vacation from The O'Reilly Factor after revelations that he and Fox News have paid out at least $13 million to settle harassment lawsuits against the conservative anchor. 
Marc E. Kasowitz, one of O'Reilly's lawyers, told the Times in a statement that neither Kelly nor anyone else had raised an issue with the star host at the time.
"At this time, it is apparent to any objective observer that Mr. O'Reilly is being subjected to a malicious campaign intent on harming his reputation and family through speculation and innuendo," Kasowitz said.
O'Reilly, whose behavior is being investigated by his network's parent company, is expected to return to his program April 24.