Maxine Waters preaches to anti-Trump supporters: "We've got to stop his ass"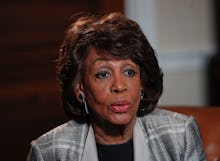 Auntie Maxine is at it again.
While hosting an open mic reception prior to the Tax Day march in Washington, D.C., Rep. Maxine Waters (D-Calif.) had a simple but resonant message about President Donald Trump that she shared with all in attendance. 
"We're going to stop his ass," Waters said as the crowd roared. 
The reception was held at Busboys & Poets in Washington, D.C., and featured Elle writer R. Eric Thomas and writer and activist Brittany Packnett. 
In one video, Packnett called the event where Waters spoke "a cross between a rock concert and church." 
In the accompanying video, Waters, presumably talking about Trump, says, "He is a con man. He is someone who will do whatever is necessary to get over at the moment." The video cuts off with Waters saying "he is about to lead us into another..." but Waters doesn't finish the sentence before the video ends. 
Thomas also shared some snaps of the night, in which Waters got an overwhelmingly positive reception. 
"Maxine Waters is leading a full on rock concert," Thomas tweeted. "People are screaming like Beyoncé is here. She is. Political Beyoncé. It's lit." 
According to tweets from the event, Waters sat down with Packnett and Thomas to discuss some of the recent events that have put Waters in the spotlight. 
Waters can already read for filth, but now she knows the definition. 
The trio also discussed #BlackWomenAtWork, the hashtag that proliferated after Fox News host Bill O'Reilly mocked Waters' hair the same week that press secretary Sean Spicer told White House reporter April Ryan to stop shaking her head. 
After previously saying she's "out to get" Trump, Waters once again called for his impeachment at Friday's event. 
Waters has been a fierce critic of Trump. She called his entire Cabinet "scumbags" and did not attend his joint speech to Congress nor his inauguration.