Donald Trump wants to ride in a gold-plated carriage with the Queen of England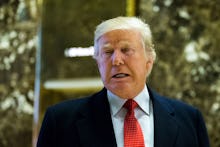 President Donald Trump loves gold — golden penthouses, golden chairs and maybe even golden showers.
So it shouldn't come as a shock, then, that Trump has reportedly requested to ride in a gold-plated carriage with Queen Elizabeth II when he visits the United Kingdom in October.
So strong is his desire for the fancy carriage, Trump is evidently willing to forgo his own safety to ride in it instead of the bullet- and bomb-proof car former President Barack Obama used during his visit.
"If he's in that vehicle he is incredibly well protected and on top of that it can travel at enormous speed," a source told the London Times. "If he is in a golden coach being dragged up the Mall by a couple of horses, the risk factor is dramatically increased."
The visit is still being fleshed out, and it isn't clear if Trump will get to fulfill his dream of riding in the carriage.
But if he does, the procession from Royal Mews to Buckingham Palace will require a "monster" security presence greater than any recent state visit, sources told the Times.
Trump is not the only world leader to demand a ride in the special carriage — Russian President Vladimir Putin, Mexican President Enrique Peña Nieto and Chinese President Xi Jinping have all gotten to ride to Buckingham Palace in it.
But there is perhaps no world leader currently more associated with a gaudy obsession with gold, and a ride in the Queen's carriage would allow President Man of the People to check another item off his (presumably) golden bucket list.