Emma Morano — world's oldest living person and last born in 1800s — dies at 117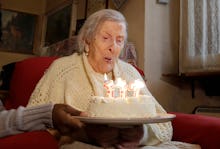 Emma Morano — the world's oldest living person and the last known person to have lived in the 1800s — has died at her home in Italy, the Associated Press reports. 
She was 117.
Morano — born Nov. 21, 1899, in Italy's Piedmont region — died Saturday at her home in Verbania, according to the AP.
Morano's life spanned three centuries and two world wars, Reuters notes — but her long life was not always a happy one.
After her first love died in World War I, a different man forced her into an abusive marriage.
"He told me, "Either you agree to marry me or I will kill you,'" Morano said. "I was 26 years old. I got married."
In 1938, Morano separated from her husband and remained single the rest of her life — something she believed added to her longevity.
"I didn't want to be dominated by anyone," Morano told the New York Times when she was 115.
She also adhered to a unique diet of two raw eggs and one cooked egg per day and had good genes: The eldest of eight children, Morano had a sister live to 102 and another to nearly 100.
Morano worked in a factory until she was 65, according to Reuters.
Carlo Bava, Morano's doctor for decades, told the AP he last visited with the 117-year-old on Friday and "she thanked me and held my hand" as she usually did.
"She reached an incredible finish line," said Verbania Mayor Silvia Marchionini.
Violet Brown, 117, of Jamaica, is now the oldest living person in the world, according to the Gerontology Research Group. Brown was born March 10, 1900.