Violence erupts at yet another pro-Trump rally in Berkeley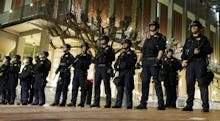 A massive brawl broke out Saturday between pro- and anti-Trump demonstrators in Berkeley, California. Authorities said at least 15 people were arrested during the melee, which saw protestors on both sides kicking and punching one another after the temporary barrier dividing them snapped.
The protests started around 10 a.m. Pacific, but by 1 p.m., police in riot gear were still on the scene, as fighting between the two sides escalated. 
The Los Angeles Times reported that just before fights started to break out "a loud explosion" was heard.
The rally was one of several held around the country Saturday, though it was sponsored by the pro-Trump Liberty Revival Alliance and was not affiliated with the many Tax Marches, which were led by protestors demanding that President Donald Trump release his tax returns.
The violence marks the third time in as many months that Trump supporters faced off with anti-Trump demonstrators in the city. In March, 10 were arrested and several more injured in a series of fights between protestors at a pro-Trump rally. Violence broke out at a February rally protesting a speaking appearance by alt-right lightning rod Milo Yiannopoulos. The appearance was later canceled. 
April 15, 2017, 6:06 p.m. Eastern: This story has been updated.