Thousands protest outside Trump Tower for NYC's Tax Day March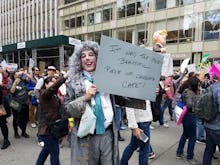 Thousands of protesters flooded the streets of Midtown Manhattan Saturday for a Tax Day March. At the same time millions of U.S. residents are filing their taxes, protestors demanded President Donald Trump release his tax returns.
The demonstration was intended to call attention to Trump's continued refusal to release his tax returns, which, if released, many suspect would reveal more conflicts of interest for the president or contain evidence that he paid very little in taxes over the course of decades. Trump's counselor Kellyanne Conway openly stated he will not release the returns because people don't care. "They voted for him" she said — a sentiment belied by the massive turnout for the rallies in NYC and across the country.
According to AM New York, Manhattan Borough President Gale Brewer estimated there were at least 25,000 in attendance. The crowd gathered in NYC's Bryant Park before marching up Sixth Avenue and across to Fifth Avenue's Trump Tower, the president's New York headquarters, where a small group of pro-Trump demonstrators staged a counter-rally.
"Democrats, Liberals, fake media, fake news > Shut the fuck off," one of the pro-Trump demonstrators' signs read.
A Tax March protester outside Trump Tower who gave her name as Veronica told Mic, "I don't like the conflicts of interest, and I don't like the overt stealing. I don't like the destruction of the environment. I don't like women and minorities being second-class citizens. Should I go on?"
Another demonstrator wearing a giant mask of Trump in a crown and clutching a bag of Cheetos added, "It's about accountability. It's about what's going on with the guy who's profiting from his role as president. ... It's just one more thing about Donald Trump that is against our democratic system."
Another protester in faux-aristocratic garb said, "We can see how entangled [Trump's business interests] are ... We only attack countries where they don't have hotels."
"It's so in your face," he added. "It really needs to come down."
Here are some scenes from the march.
As the march ended, some protesters left their signs poking out of trash cans — a reminder how many across the country think something about Trump's returns smells like garbage.