Latest North Korean missile test ends in premature detonation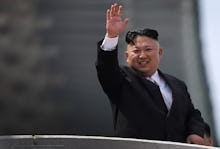 Amid a spate of increasingly bellicose rhetoric from both the U.S. and North Korea over the latter country's nuclear weapons program, North Korea launched another missile test Sunday around 5:00 a.m. Pyongyang Time, CNN reported.
The missile was launched from the port city of Sinpo in eastern North Korea, according to CNN. It quickly failed during launch and detonated "almost immediately," U.S. Pacific Command told the network.
At a military parade on Saturday commemorating the birthday of the nation's founder, Kim Il Sung, the North Korean military proudly displayed new missile systems. According to CNN, "Pyongyang showed off two new intercontinental ballistic missile-sized canisters as well as displaying its submarine-launched ballistic missile and a land-based version of the same for the first time, according to analysts."
It North Korea obtained ICBMs, it could potentially strike mainland U.S. or Europe — though it is unclear if the missiles are functional or if the North Korean military has actually developed nuclear warheads fit for mounting on an ICBM. 
The U.S. has deployed multiple defensive systems potentially capable of destroying missiles midflight, as well as two missile destroyers, to the region. President Donald Trump's administration has said it is done negotiating with North Korean leader Kim Jong Un and has been broadly telegraphing its willingness to launch pre-emptive strikes, despite the possibility that North Korean retaliation could kill scores of people.
Trump recently told reporters, "North Korea is a problem. The problem will be taken care of."
According to Reuters, many South Koreans long accustomed to saber-rattling remain calm amid increasing U.S.-North Korea tensions, believing the current situation is mostly bluster.