What time is the Boston Marathon over? Here's when runners will cross the finish line.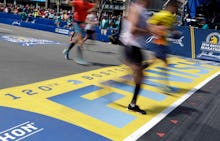 On Monday, the streets of Boston will be filled with world-class runners competing in the Boston Marathon. The 120-year tradition is expected to be an all-day affair.
The legendary race will kick off bright and early, with the first division departing just before 9 a.m. Eastern. What time the race finishes will be different for each individual runner, whose start times are staggered based on the division they're in. 
Boston Discovery Guide notes that the race's most elite runners typically finish in a little over two hours, meaning the fastest runners will likely reach the finish line around noon.
Most participants won't be done quite that early. RunTri calculated that the average marathon time is four hours and 24 minutes, so runners who depart with the final division, wave four, at 11:15 a.m. are projected to finish shortly before 4 p.m.
Those who fall behind the average pace will have until 5:30 p.m. to finish the race, the Boston Athletic Association explains, at which point the finish line facilities will close and no official times will be recorded.
The race will officially come to a close at the Boston Marathon's official awards ceremony, which will be held at the Fairmont Copley Plaza Hotel from 5 to 6 p.m. Afterwards, runners will be able to celebrate their achievement with a post-marathon party at Fenway Park, which will take place from 6:30 to 10 p.m.