Boston Marathon Tracking 2017: How to follow racers live from your phone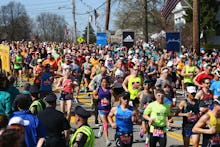 Over 30,000 runners compete in the Boston Marathon, the legendary running event taking place this year on Monday, April 17.
But if there's one particular runner you're cheering for, it will be easy to know where they're at along the 26.2-mile route.
To keep track of a specific marathoner's location, spectators can sign up for AT&T Athlete Alerts using the runner's marathon bib number. The mobile alerts will let users know when the athlete has reached the following milestones: 10 kilometers, half marathon (13.1 miles), 30 kilometers, 35 kilometers (SMS alerts only), 40 kilometers and the finish line.
Spectators can sign up to receive the alerts via social media or email by registering on the Boston Athletic Association website. Those who'd prefer to receive text message alerts on their phone can register either online or by texting RUNNER to the number 234567.
Registering for the text message alerts will remain open during Monday's race. Those hoping to sign up online, however, will need to do so before online registration closes at 6 p.m. Eastern on Sunday, April 16.