North Korea: H.R. McMaster says "range of options" could prevent war with country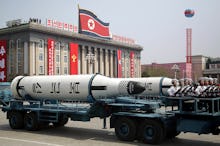 National security adviser Lt. Gen. H.R. McMaster warned of a possible war with North Korea on Sunday, telling ABC News' This Week the administration is still hoping to seek a diplomatic resolution to spiraling tensions with the country, but is prepared to strike with military force.
"The president has made clear that he will not accept the United States and its allies and partners in the region being under threat from this hostile regime with nuclear weapons," McMaster said. "And so we're working together with our allies and partners, and with the Chinese leadership, to develop a range of options."
McMaster added: 
This problem is coming to a head. And so it's time for us to undertake all actions we can, short of a military option, to try to resolve this peacefully ... In the coming weeks, months, I think there's a great opportunity for all of us ... to take action short of armed conflict so we can avoid the worst.
He said President Donald Trump — who recently said North Korea is a "problem" that "will be taken care of" — established a "warm" relationship with Chinese President Xi Jinping at a recent summit and has been working productively with him on pressuring North Korea.
North Korea tested yet another missile on Sunday in defiance of the U.S.' decision to deploy missile defense systems and naval destroyers to the region. The test failed when the missile prematurely detonated.
On Saturday, Pyongyang celebrated the birthday of North Korea's founder Kim Il Sung by showing off new military hardware, including what appeared to be an intercontinental ballistic missile-sized canister, CNN reported.
If North Korea truly had functioning ICBMs and nuclear weapons capable of being fitted onto them, it could possibly strike the U.S. or Europe, though it is likely their technology has not yet advanced to that level.