Lady Gaga 'The Cure': Here's how fans reacted to new single dropped at Coachella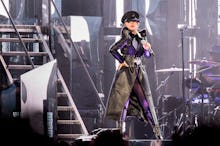 Lady Gaga had a surprise in store when she took the stage at Coachella on Saturday, debuting a brand new single called "The Cure."
The song's premiere came during the middle of Gaga's Coachella performance, Entertainment Weekly reported, and got an enthusiastic reaction from the crowd, which numbered in the tens of thousands.
Gaga, the Telegraph notes, is the first woman to headline at Coachella since Bjork in 2007. The pop performer filled in for Beyoncé, who had to drop out due to her pregnancy.
Since debuting at Coachella and being released online as a single, "The Cure" has sparked a wave of reactions from Gaga's loyal "little monsters."
Some have criticized the song for being a departure from the female singer's more cutting-edge pop fare, decrying "The Cure" as having a much more "mainstream" sound.
But these reactions have been in the minority, as many fans have embraced Gaga's return to pop after the country-inspired sound on her recent album Joanne. Less than a day after its debut, the new single has already shot to the No. 1 spot on iTunes in the U.S. and around the world.
"I love you guys so much," Gaga said to the Coachella crowd during her performance, EW reported. "I have been through so much in my life and I've seen so much. And you cure me every time with your love."
To judge the song for yourself, you can download "The Cure" on iTunes or stream it on Spotify.