Vanessa Marcotte: Police arrest Angelo Colon-Ortiz, 31, in Google employee's killing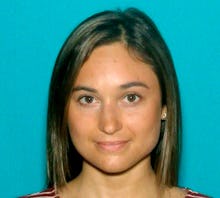 Eight months after police found Vanessa Marcotte's body, naked and burned near her mother's Princeton, Massachusetts, home, they have identified her killer. 
"We got him," Worcester County District Attorney Joseph Early, Jr. said at a press conference, CNN reported. Angelo Colon-Ortiz, 31, was arrested Friday and charged with aggravated assault and battery and assault with intent to rape. 
According to CNN, Early expects Colon-Ortiz will also receive a murder charge.
Marcotte, a Google account manager, disappeared on Aug. 7. The 27-year-old was visiting her mother and went out for a run in the early afternoon. When she didn't come back, her family reported her missing. A K-9 police unit found her body in the woods about half a mile away from her mother's house. 
"It was through [Marcotte's] determined fight and her efforts that we obtained the DNA of her killer," Early said in the press conference. 
According to the Washington Post, authorities sifted through over 1,300 tips during their investigation, but they ultimately found Colon-Ortiz by chance. A man matching the suspect's description drove past a detective on the case, who took down the driver's license plate number and traced the vehicle to a Worcester address. That's where police found Colon-Ortiz and took a DNA sample, which matched DNA from Marcotte's hands. 
Early added that Colon-Ortiz is currently being held at the Millbury State Police barracks until his arraignment on Tuesday. Bail has been set at $10 million.