Donald Trump's border wall could trap some US residents on Mexican side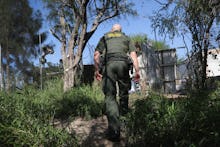 President Donald Trump's promised wall on the U.S.-Mexican border — the funding for which is still a matter of mystery — would leave a number of United States residents who currently live near the border on the "Mexican side," NBC News reported Sunday.
According to NBC News, some residents in the Rio Grande Valley live on the northern side of the river separating the U.S. from Mexico but south of the likely location of the wall, which would be built roughly a mile north. Brownsville, a town in that area, already has 18-foot fencing snaking through some neighborhoods, though the construction of a full-scale wall would be much more disruptive.
The construction of the fencing alone forced the government to take hundreds of homeowners to court in eminent domain cases, though as local landowner Antonio Reyes told NBC, the fence is easily scaled in seconds by people illegally crossing the border.
"How would we get out?" homeowner Pamela Taylor, 88, asked NBC. "Do they realize that they're penalizing people that live along this river on the American side?"
Trump has yet to secure funding from Congress for the wall, which could cost a whopping $21.6 billion. But the Department of Homeland Security, which oversees both customs and immigration enforcement agencies, has already taken a number of actions in preparation to fulfill Trump's campaign promises of a hardline immigration crackdown, including securing 33,000 more detention beds for undocumented immigrants, expediting hiring procedures and entering discussions with dozens of police forces to act as deputized immigration enforcers.
Construction of the border wall could do little to deter foreigners from entering the country, according to a recent study in the American Journal of Sociology, but it could backfire for Trump by making border crossings more inconvenient and risky, thus encouraging some migrants to stay in the U.S. longer.