Trump has inspired millennials to increase their political engagement. Bigly.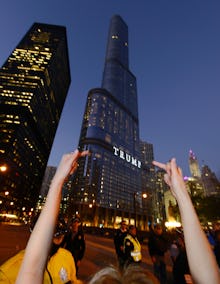 Liz Kersjes had always followed politics — but until Donald Trump upset Hillary Clinton in the 2016 election, that was about the extent of her political engagement.
"I knew enough to get angry about things but not angry enough to truly get off my couch and do something," Kersjes said in an interview.
Trump's victory, though, was a "disgusting wake-up call" for Kersjes, and the 30-year-old Chicago marketer decided to take action. In November, she formed the Chicago Action Alliance — a political group that has grown to include more than 500 members in just a handful of months — and become more politically active since the election in November. 
She's not alone.
According to a Dictionary.com study released Tuesday — which Mic received ahead of its publication — Americans have been increasingly political since the 2016 election. They appear to be more informed and more critical observers of current affairs, and like Kersjes, they've been spurred into action. 
"It's kind of this common thing where everyone wants to do something in this moment," she said. "Together, we're all kind of figuring it out."
Millennials more informed since 2016 election
The study — conducted by the Harris Poll on behalf of Dictionary.com — found that 53% of Americans of all political stripes now feel more politically aware than they did before the 2016 election, and 50% are reading more political news.
That was especially true for millennials, 60% of whom responded said they felt more informed about politics than they previously had been.
And Americans aren't just following politics more closely — the survey results suggest that they have also become more critical observers of politics.
About a third of respondents overall — and nearly half of millennials polled — say their vocabulary expanded during the 2016 race, and that they looked up words related to politics that they had not known before.
Some of the words the site says Americans became better acquainted with during the election? "Alt-right," "bigly," "executive order," "xenophobic," "misogynist" and "fascism."
"It's fascinating to see a direct connection between words used by and about politicians and the words that resonate with our users in response to newsworthy events," Dictionary.com CEO Liz McMillan said in a press release. "These findings are indicative of the impact that the current political discourse has on everyday Americans – and in a positive way, as Americans now appear to be more critical of language used and are expanding their vocabularies." 
Americans appear to be more politically active, too
Americans — particularly millennials — aren't just more informed. Their increased attention appears to be translating into action, as well. 
Kersjes had been a "huge local advocate" for Hillary Clinton but didn't do more because she assumed she would win. But Clinton not only lost — according to Kersjes, a "truly wonderful, deeply intelligent, thoughtful, ridiculously experienced candidate was ripped to shreds publicly" in a way she wouldn't have been if she wasn't a woman.
Immediately, Kersjes began noticing other people like her, people who wanted to get more involved but weren't sure how. So she began reaching out to people on Facebook and soon founded the Chicago Action Alliance, a group that connects activists and volunteers to organizations focusing on local issues and hosts monthly panels on political topics. 
Though the group had humble beginnings — a mere four people attended its first meeting — interest in the CAA went from zero to 100, Kersjes said. Meetings now regularly draw dozens of attendees, and the alliance boasts more than 500 members. These are people, Kersjes said, who had been in the same boat as her: They weren't super politically active before and didn't know where to start.
Robin Dusek, 43, is one such member. She had followed politics before but didn't consider herself an activist. She lives in a "safe Democratic district," she said in an interview, and took for granted that progress would be made and that her leaders had her best interest at heart — even when she disagreed with their particular policies.
"I realized with this election that I can't take democracy for granted," said Dusek, who is now also a leader with Indivisible Illinois. "I can't take for granted that progress will continue without my involvement."
While much of this new civic engagement arose from the election results, some Americans found their political voice during the 2016 campaign itself.
Joe Wilcox, a 32-year-old Chicago Public School teacher, said in an interview that while he had always voted and had political views, he never felt very politically engaged until Bernie Sanders ran for president. 
"I didn't even know politicians existed like that," Wilcox said. "It was a fun thing to watch grow and to be one of the early supporters."
Though Sanders didn't make it past the Democratic primary, Wilcox has stayed active, donating to organizations like Planned Parenthood and the ACLU, attending protests and constantly following political news. 
"I've just become way more knowledgable," Wilcox said. 
Will Americans be able to keep it up?
Though activists have staged high-profile protests like the Women's March on Washington and the recent Tax March, Trump has been in office for less than 100 days. Will these levels of political engagement hold during four or eight years of Trump?
"Personally, I'm really trying to keep in mind that this is a marathon and not a sprint," Dusek said. "And I actually run marathons sometimes."
Wilcox, who said he had never really participated in midterm elections before, is looking forward to 2018. 
"I anticipate being very involved," he said, "especially if there's some good candidates to support, which I think there will be."
As for Kersjes, she said that the battle against Trump will be a long one — but emphasized that the fight can't end with Trump.
"It's great we're using this moment to spur action," Kersjes said. "But it's important to remember that if he's impeached tomorrow, we still have to keep it up."
"Speaking for myself, I'm not going anywhere."