Pence warns North Korea not to test the "strength and resolve of our new president"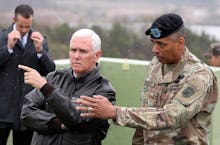 Vice President Mike Pence took a tough line on North Korea Monday, warning the rogue state not to test the "strength of [U.S.] armed forces,"  by continuing to build out its nuclear program.
Pence's comments came after a visit to the Demilitarized Zone, the de facto border between North and South Korea, where he stopped as part of a 10-day tour of Asia.
"Just in the past two weeks, the world witnessed the strength and resolve of our new president in actions taken in Syria and Afghanistan," the vice president said later in Seoul, South Korea. "North Korea would do well not to test his resolve or the strength of the armed forces of the United States in this region."
Last week, the U.S. launched 59 Tomahawk missiles at a Syrian airbase in retaliation for chemical attacks by the government against civilians. 
Days later, Trump dropped a MOAB — the largest non-nuclear bomb ever used in combat – on an Islamic State tunnel network in eastern Afghanistan. 
On Monday, Pence seemed to insinuate that similarly heavy artillery could be headed North Korea's way if the country's leader, Kim Jong-Un, continues to test the patience of the U.S.
"All options are on the table," Pence said, standing next to South Korean acting President and Prime Minister Hwang Kyo-ahn. 
During his comments delivered in Seoul, Pence also echoed Secretary of State Rex Tillerson, who said in March that "the policy of strategic patience" by the U.S. when it comes to North Korea "has ended."
"On behalf of President Trump, my message to South Korea is this — we are with you 100%," Pence said.
Tensions have run high in the region amid a spate of recent ballistic missile tests by the North, despite the fact that U.S. analysts do not currently believe that Pyongyang is capable of engineering a nuclear weapon small enough to fit onto the tip of a guided missile.