United Airlines removes couple traveling to their own wedding from plane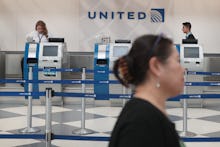 Current controversy be damned — United Airlines is moving onto the next one.
Less than a week after the company landed in hot water over a viral video that showed a passenger being brutally dragged from his seat on an overbooked flight, Reuters reports that the airline removed an engaged couple en route to their own wedding from one of its planes on Saturday.
According to the report, the couple claims that they were escorted off their Costa Rica-bound flight by a federal marshal as their plane sat in a Houston airport awaiting takeoff.
Michael Hohl and his fiancée, Amber Maxwell, told KHOU that the trouble began when they boarded the plane last only to find another passenger asleep and sprawled across the seats they had booked in the economy cabin.
Undeterred, the couple moved to a pair of empty seats a few rows up. Although those seats were also in the economy cabin, they were designated "economy plus," so the couple offered to pay the difference in ticket price.
"We thought not a big deal, it's not like we are trying to jump up into a first-class seat," Hohl told KHOU. "We were simply in an economy row a few rows above our economy seat."
Their request was denied by the flight crew, Hohl said, and they were instructed to move back to their original seats. 
In a statement obtained by Reuters, United said that the couple "repeatedly attempted to sit in upgraded seating which they did not purchase and they would not follow crew instructions to return to their assigned seats." 
The statement denied that either a marshal or law enforcement were involved, claiming instead that the couple cooperated with the flight crew's instructions and deplaned of their own volition. The airline said that it offered the couple a discounted hotel rate for the night as compensation, and that it rebooked them on a new flight the next morning.
Last week, 69-year-old doctor David Dao was left bloodied and shaken after he was dragged off a United flight. Video of the incident soon went viral, and the airline suffered a maelstrom of backlash in its aftermath. Dao's lawyer said that he will likely sue the airline.