Why is everyone famous getting a blonde pixie-length cut without me?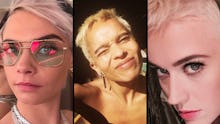 In the span of a week, three A-listers, each known and respected for their quality tresses, decided to chop it all off. 
Now, I keep my hair rather pixie-length myself, and I've been dyeing it blond on and off since the original lineup of Destiny's Child. So when I saw Zoë do it, I was like "Cute!" Then when I saw Katy do it I was like, "What's happening?" And then I saw Cara do it without telling me, too, and I was like, "You guys!"
It all started on on April 7 when Big Little Lies actress Zoë Kravitz posted on Instagram to first reveal the chopped locks strewn across the floor before debuting the new 'do in a follow-up post.
"Oh shit: part one," she captioned the first photo, before following up with the sequel, appropriately dubbed "Oh shit: part two."
Three days later, singer Katy Perry, fresh off her recent Vogue cover, revealed — you guessed it — a blonde pixie cut, captioning the photo "fifth element flow."
Then on April 14, not to be outdone, Cara Delevingne revealed her just-shorn, platinum-dyed hair via an Instagram story captioned "oh no." 
Shortly thereafter, the model-actress debuted an entirely new look: a platinum pixie cut streaked with pink that Vogue called "shocking."
Of course the pixie cut is nothing new: Women, from Mia Farrow to Halle Berry to Michelle Williams to Janelle Monae, have been rocking it for decades. But the ubiquity over such a short period of time definitely feels noteworthy.
So why now — and why the velocity? "Social media platforms like Instagram allow for trends to catch on fire faster than ever before. We're all connected, engaging with content 24/7," explains Sandra Gil, vice president of communications at Urban Zen.
But deconstructing the how or why may be a fruitless effort. "When someone as beautiful as these girls do that, everyone wants to do what they're doing and look like them," said Courtney Lee, owner of Kinloch Salon in Brooklyn.
For others, like Jamie Cook, a stylist and educator at Blackstones Salon in Manhattan's East Village, the look can be considered a reaction to the times. "I think one way women express themselves and their femininity in uncertain times is by pushing stereotypes with statement cuts and colors that are more stereotypically gender neutral in our society," Cook said. "That's how we express ourselves and feel in control in the ever-changing world around us."
Still, the influence of celebrity taste-making cannot be undervalued in watching this trend take on new life. So is Gil finally ready herself to take the plunge herself? "I've been talking about shaving my head for a couple of months now ... but I'm attached to my natural grays." 
What will it take? "Timing ... I bet it will be so liberating when I finally do it." But let me tell you, it is — whether all the celebs are doing it or not.