Rihanna pronounces herself the queen of Coachella with 2 of her best outfits of all time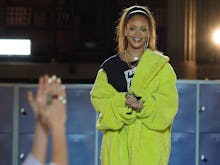 Coachella fashion these past few years has been largely embarrassing: The flower crowns. The appropriated Native American headdresses. The fringe. The macrame. The espadrilles.
It was beginning to feel like no one could save us from this national nightmare. But then, on the first weekend of Coachella, Rihanna showed up, took one look at all that and proudly declared, "Nah." 
Honestly, Rihanna not only shunned all typical festival attire, but our Lady of See-Through Clothing hath brought us two of her best outfits of all time.
The first one came Saturday. Rihanna blessed us on Instagram with a picture of herself in a literally head-to-toe crystal bodysuit by Gucci. Reminiscent of her see-through CFDA dress, Riri was coated in sparkly chainmail, as she should be. 
"I can't go home yet, cuz enough people ain't seen my outfit," she captioned the picture, perfectly. 
"Phresh out," she captioned another one, referencing the fact that her outfit is quite literally fresh off the runway, coming straight from the most recent Gucci fashion show in Milan in February. 
What's that written on her shirt? "Common sense is not that common." Slay us with that philosophical theory, mom. 
In action, the outfit made Rihanna look like a mythical fairy princess from outer space. 
Which is to say she looked great. 
Obviously, Twitter was obsessed with it too. 
But did Rihanna stop there? Of course she didn't. 
She decided to bless us once more, on Sunday, with another outfit that is, well, perfect too. This time, it was a large denim jacket worn as a dress, with thigh-high white patent leather boots. 
She topped off that look too with a pair of futuristic sunglasses and blue sparkly lipstick. 
And it's honestly just like... 
We don't deserve Rihanna. We just don't.