Trump hosted a special Easter celebration just for the well-to-do guests of Mar-a-Lago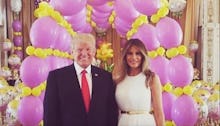 It's no secret at this point that this year's White House Easter Egg Roll was slapped together at the last minute. But it turns out the first family did invest time and energy into an Easter egg hunt, just not one for the American public.
On Sunday, one day before the annual White House Easter Egg Roll, Trump hosted a private Easter egg hunt for the tony guests of his private country club Mar-a-Lago.  
While the event was closed to the press, mere plebeians got a glimpse into the festivities via Instagram. 
Trump and first lady Melania Trump pose for a picture underneath a balloon arch — who doesn't love a balloon arch?
Here's one of the first grandchildren in what looks to be some kind of cake making activity for the children — what fun!
Trump's son Eric and his wife Lara posed with guests by the pool.
Attendees were even afforded the red carpet treatment. 
Melania Trump entertains potential replacements for White House press secretary Sean Spicer.
If the first family was willing to put on such a spectacular event for their private guests, one can only imagine how exciting the official White House Easter Egg Roll will be.
Or maybe not.