'Trial & Error' star Nicholas D'Agosto teases satisfying finale and new case in season 2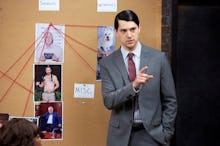 NBC's new series Trial & Error will wrap up its mysterious, twist-filled first season on Tuesday, with back-to-back episodes beginning at 10 p.m. Eastern. The latest mockumentary-style comedy from the peacock network brilliantly spoofs true-crime shows, like Making a Murderer, by chronicling the trial of an eccentric poetry professor, Larry Henderson, who is played by the hilarious John Lithgow. 
[Editor's Note: Spoiler's ahead for season one of Trial & Error.]
Heading into Tuesday's season finale, audiences have been left on the edge of their seat, as Larry, much to the shock of his legal team — and joy of prosecutor Carol Anne Keane — just confessed to the murder of his wife, Margaret. And while he does so likely to protect his daughter, who has started to look like a suspect, it is unclear whether his hotshot "Northeasterner" attorney, Josh Segal, will be able to get him out of this one. 
Shocking twists such as Larry's unexpected confession make Trial & Error quite the interesting comedy — almost as mysterious as it is funny. And, to this point, audiences have no idea who is behind the murder of Margaret Henderson. In fact, there are quite a few suspects. But if this fact has you nervous that Trial & Error will struggle to wrap up its first season neatly, don't be. 
"There is a tendency — and the most notorious ones are things like Lost — where you build up, and build up, and build up and then don't deliver," star Nicholas D'Agosto, who plays Larry's attorney Josh Segal, told Mic during a phone interview. 
"Lost got themselves into trouble because the whole premise was just one premise. [Trial & Error] is a case every season. So, we get to firmly deliver you a satisfying ending every season. We don't have to keep the mystery going into next season to keep you watching. We create a new trial, a new situation and a new satisfying ending."
Since Trial & Error — though not yet officially renewed — will look to move towards new trials in subsequent seasons, fans should rest assured that there will be a resolution to Larry's circumstances. 
"I think it's a really great resolution," D'Agosto says of the final episode. "I think fans will really feel satisfied. They may feel sad, but they'll feel really satisfied. I think that's one of the things that the writers were hoping to deliver."
Of course, Trial & Error would not feel complete if the final two episodes didn't include some absurd twists — and resulting hilarity. And while D'Agosto kept those twists close to the vest, the star does believe they will land in true Trial & Error fashion. 
"I think it totally delivers on being a crazy, shocking surprise, and the twists of it are kind of, like, legit and fun. They are really fun and wacky, and it fits [within] this absurd world," D'Agosto said.
Trial & Error will conclude its first season with back-to-back episodes on Tuesday, April 18, beginning at 10 p.m. Eastern on NBC. 
Mic has ongoing coverage of NBC television series. Please follow our main NBC hub here.