Robert Godwin Sr.: What to know about victim of Facebook shooting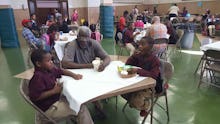 A manhunt is currently underway for Steve Stephens, the Cleveland man police suspect of shooting an elderly man dead on Easter Sunday in a video Stephens later posted to his Facebook page.
But as law enforcement officials race to apprehend a suspect, the family of the victim, 74-year-old Robert Godwin Sr., have taken to social media to honor the life of a beloved relative they say was "a good man" through and through.
Below are some of the details of Godwin's life, as described by those who loved him.
He was a "good man" who would "give you the shirt off his back"
"He'd give you the shirt off his back," one of Godwin's family members said during a tearful interview with CNN affiliate WOIO. "This man right here was a good man. I hate he's gone. I don't know what I'm going to do. ... It's not real." 
Family mattered most to him
In an interview with Cleveland.com, Godwin's son, Robert Godwin Jr., said that his father is survived by nine children, 14 grandchildren and many great grandchildren. 
He said that his father had stopped by his house on Sunday morning to pick up some basketball equipment for one of his other sons. 
He loved to fish and clean up litter
Godwin Jr. said that his father had gone fishing the Saturday before he was killed, a hobby he particularly enjoyed in his retirement. He also said that Godwin Sr. often patrolled the streets with a plastic shopping bag, picking up the aluminum cans he saw on the ground along the way.
Godwin Jr. said that his father had been out looking for cans on Sunday when he was gunned down by Stephens.
He was a "good guy" who was quiet and respectful
During his Cleveland.com interview, Godwin Jr .described his father as a "good guy" who was soft-spoken and always respectful, and said that he hugged him goodbye the morning he was killed.
"He hugged my wife and me and said 'I'll see you guys next time,'" Godwin Jr. said. "I said 'OK, enjoy your Easter.'"