Everything we learned about Kanye West's breakdown on 'KUWTK'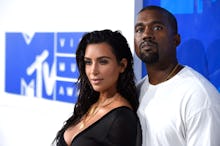 On Sunday's episode of Keeping Up With the Kardashians, viewers witnessed Kim Kardashian West's response to her husband's widely publicized breakdown that took place at the end of 2016. 
The previous week's episode ended with a cliffhanger when Kim received a call about her husband that left her in tears. The episode concluded with an ominous "to be continued."
A few months have passed since West was hospitalized for "exhaustion," following speculation about his mental health, due in part to his outbursts on Twitter. Fans of the famously public family have been waiting to see how Keeping Up With the Kardashians addressed the sensitive and personal subject that had sparked rumors of trouble in the pair's relationship.
The phone call 
The episode picks up where the show left off last week, with Kim receiving a phone call from one of West's friends. She immediately knows something is wrong. 
"Don't scare me, please. What's going on?" she asks before bursting into tears. Despite having just landed in New York with her mother and sisters to honor their father, the late Robert Kardashian, at the Angel Ball, Kim decides to immediately fly to Los Angeles to be with her husband. 
Blaming herself 
Despite being scared of what was happening to her husband, Kim remains outwardly calm and positive with her family. She admits she's exhausted and says she hasn't had her phone on for days. She assures them that "everything will be OK," adding that "this is forcing him to take some much needed time off." 
On a more serious note, Kim confesses that she feels "a sense of responsibility" for what's happening to her husband. A few months before filming, the reality star had been held at gunpoint in her hotel room in Paris, and she withdrew from public life following the incident. Kim says she fears the pressure Kanye felt while she recovered may have had a negative impact on him. 
"Even after the robbery and everything, it's just, I've been staying home and I've been looking to him to just take care of everything while I stay home."
For better or worse 
In a show of restraint, given the widely publicized nature of their relationship that has included talking publicly about everything from romance to pregnancy to parenting, Kim doesn't go into detail on camera about what was happening with her husband. She does remain positive, telling her sister, "Kanye was really cute. He was like, 'So this is what for better or worse means.'"
"This is what being a wife is. This is what you gotta do." 
That optimistic outlook continued throughout the episode, which concludes with Kim reading a fortune cookie that says, "Your troubles will soon cease and good fortune will smile upon you." 
Mic has ongoing TV coverage. Please follow our main TV hub here.