In Maryland, a group of men blocks women from revoking rapists' parental rights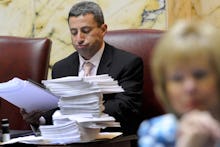 Maryland, allegedly the country's fifth best state for women to live and work, has opted to keep in place its archaic laws granting parental rights to rapists, thanks to a group of male lawmakers. 
According to the Baltimore Sun, both the Maryland House and Senate passed a bill — the Rape Survivor Family Protection Act, proposed by Del. Kathleen Dumais — that would have allowed a woman who conceives a child through sexual assault to deny her attacker's claim to custody. In the absence of a conviction, the act would require survivors to present a family court with "clear and convincing evidence" that the pregnancy was the result of nonconsensual sexual conduct. 
Each body approved the bill with different wording — on Monday an all-male negotiating committee convened to finalize the text. According to the Daily Beast, it's not really clear why there wasn't a woman in that group. The committee continued its negotiations past 11 p.m., apparently having come to some kind of compromise at the last minute. Still, according to the Sun, they failed to get the finalized bill to the floor before the deadline lapsed, blaming the hold-up on a slow printer rather than slow deliberations. 
Currently, a Maryland woman who faces unwanted pregnancy as the result of a rape can choose abortion or adoption, but in order to get the latter, she needs her rapist's permission. 
"If he objects ... the adoption plan is done," Jennifer Fairfax, a lawyer and vice president of the American Academy of Adoption Attorneys, previously told the Sun. "She will be forced to parent that child, and she will be forced to enter into child support and custody arrangements with her rapist. There is no other option."
According to CNN, six other states have similar laws that allow rapists to continue inserting themselves into their victims' lives. In Maryland, however, the fight to reform this policy has stretched over a decade. What's more, this is the second year running that a man has killed reform attempts at the eleventh hour.
In April 2016, the Washington Post reported that Sen. Bobby Zirkin torpedoed Dumais' widely supported bill, weighing it down with amendments that would have bolstered assailants' rights, rather than victims'. As he told the Sun, Zirkin was concerned that the legislation would end up hurting men falsely accused of rape.
"Nobody thinks that someone who is a rapist should have parental rights," Zirkin, who is a Democrat, chair of the Judicial Proceedings Committee and who sat on the all-male negotiating committee in 2017, said. "I mean, that's insane."
"That being said, you want to define [the law] correctly. You don't want to catch people up who aren't rapists," he added. "We're taking an extremely hard look."
That hard look — the intense, disbelieving scrutiny to which victims are often subjected — contributes to why rape is underreported in the first place. Just 2 to 8% of the incidents that are brought to authorities' attention are thought to be falsely reported.