Will Harvey Dent return to 'Gotham'? Nicholas D'Agosto gives update on the future Two-Face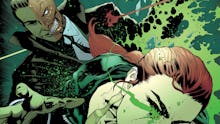 Fox's Batman-prequel series, Gotham, is as much about the origins of the Dark Knight's most popular villains as it is exploring how Bruce Wayne grows to eventually don the famous cape and cowl. As such, Gotham has introduced fans to younger versions of villains like the Riddler, Poison Ivy, the Penguin, Mad-Hatter and so much more (possibly even the Joker). 
And while Gotham's Bruce Wayne is still likely a few years away from becoming Batman, many of the series' villains have already assumed their more famous identities. But there is one particularly notorious Batman antagonist who may not turn to a life of crime anytime soon: Harvey Dent, aka Two-Face. Dent, who is portrayed in Gotham by Nicholas D'Agosto, has not yet appeared in season three, and there is a good reason for this. 
While Gotham has taken some creative liberties with its villains, it makes the most sense for Harvey Dent to become Two-Face after Bruce Wayne matures. This is because the two are usually portrayed as allies before the accident that leads to Dent's disfigurement — and subsequent life of crime. Still, while there are no confirmed plans yet, it is not a stretch to assume we will see more of Dent on Gotham down the line.
"I hope so," D'Agosto told Mic over the phone in response to whether Dent would return to Gotham. "I think the answer is yes, but the thing is, Gotham has so many established stars on it already, it frankly doesn't need Harvey Dent right now. They hired me to do a season for them, and there is only so much real estate in the show. It was one of those things where we all kind of saw what was going on and we decided to push pause on this while the show sort of grows." 
D'Agosto believes that a Harvey Dent/Two-Face storyline may be best saved for later seasons as Bruce nears his crime-fighting career. 
"I think it serves Harvey Dent to become Two-Face as old as Bruce can get," explained the actor. "I think there was kind of a realization that it wasn't the right time for this storyline. My hope is that it will happen — though there is no plan at the moment — I think that the hope is that sometime in next couple of seasons Harvey will start coming back in." 
Of course, fans that are eager to see D'Agosto play a lawyer right now, can do so on NBC's new comedy Trial & Error, in which he plays the young defense attorney Josh Segal. And while Trial & Error does not feature Harvey Dent, the series does have its own tough prosecutor, the kinky Carol Anne Keane, played by Glee's Jayma Mays. 
As for who is a tougher prosecutor, Harvey Dent or Carol Anne Keane? "I would certainly rather end up against Carol Anne Keane, because there is a possibility that she may end up in the sack with you," says D'Agosto. "With Harvey Dent, it will be a different kind of sack and you'll end up on the bottom of the river."
Gotham returns to Fox on April 24 at 8 p.m. Eastern. You can currently catch D'Agosto on Trial & Error, which airs its final two episodes of season one on Tuesday, April 18 at 10 p.m. Eastern on NBC. 
Mic has ongoing coverage of Gotham. Please follow our main Gotham hub here.