Trump said he would only deport "bad hombres" — but noncriminal deportations have doubled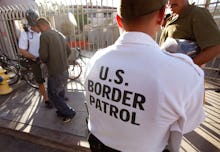 During the 2016 presidential campaign, President Donald Trump distanced himself from accusations of rank xenophobia by insisting the only immigrants he wanted to send home were the criminals: the "murderers," "rapists" and "bad hombres." Few will be surprised to learn that's not the case.
Under Trump so far, the number of immigrants arrested without a criminal record has more than doubled, according to numbers obtained by the Washington Post. From January to mid-March, U.S. Immigration and Customs Enforcement arrested 5,441 "noncriminal" immigrants; arrests of immigrants with criminal backgrounds only rose 15% during that same time.
For Trump, deportation is one of the few things left that he can easily accomplish. Whereas his effort at health care reform was thwarted by Congressional rifts and his travel ban fell apart at the hands of the court, immigration policy has been an easier way for the president to institute his agenda through executive power alone. Trump ran heavily on a platform that demonized immigration and foreign workers as the source of America's economic ills.
"There are vast numbers of additional criminal illegal immigrants who have fled, but their days have run out in this country," Trump said at a campaign stop in 2016. "The crime will stop. They're going to be gone. It will be over."
Immigrants have been swept up in terrifying raids on shelters, courtrooms and their own homes. Some school districts have seen attendance drop precipitously as immigrant students have been detained or begun laying low. The targets for the raids are often undocumented immigrants, some of whom are Dreamers — young immigrants who were brought in by their parents, but have lived in America for their adult lives. In one case, ICE arrested an activist Dreamer after she gave a speech at a public event.
ICE officials have even targeted so-called sanctuary cities — places that pass special laws protecting immigrants from federal law enforcement — in their raids.
The scope of the arrests has taken even some Trump-supporting American citizens by surprise. A woman who voted for Trump, for instance, lost a husband to deportation, and communities risk losing local heroes. With resentment, racial tribalism and xenophobia are at the center of the platform, it's unclear who will fall in the crosshairs.