3 things to watch in Georgia's 6th District special election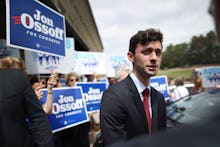 Voters head to the polls Tuesday for a special election in Georgia's 6th Congressional District, the suburban Atlanta-based seat that's being billed as the first true test of the strength of the resistance movement against President Donald Trump.
The seat, open thanks to GOP Rep. Tom Price's ascension to head the Department of Health and Human Services, has been a strong Republican seat for the past several decades. 
But Trump barely carried the district in 2016, taking 48% to Hillary Clinton's 47% among the district's voters. And as such, Democrats targeted the seat for a pickup in Tuesday's special election.
Young Democrat Jon Ossoff is the frontrunner in Tuesday's race, earning him attacks from Trump himself, who took aim at the "super Liberal Democrat" in a Monday morning tweet.
But the special election has nontraditional rules that complicate the race's outcome.
Here's what to watch.
Ossoff's vote share
Unlike traditional elections, there isn't just one Democrat and one Republican nominee. Instead, this race boasts a whopping 18 candidates all running on the same ballot, regardless of their party identification. 
If one of those candidates can garner 50% plus one of the vote, that candidate would be declared the winner and the election would be over. If no candidate passes that 50% threshold, the election heads to a runoff on June 20, with the top two finishers advancing. 
Polling shows Ossoff with a major lead over all of the other candidates on the ballot. However, polls do not show him clearing that 50% benchmark, with most surveys putting him in the low-40% range.
If Ossoff over-performs in polls enough to win the election outright, that would inject DEFCON-1-level fear for Republicans heading into the 2018 midterm elections. Such a showing would mean polls did not capture Democratic enthusiasm — and could point to danger for the Republican majority come November of next year.
"There are reports that people who haven't voted in years or who have never voted before are turning out to vote for Ossoff," Stu Rothenberg, a nonpartisan political analyst, said in an interview.
But if Ossoff and the four other Democrats on the ballot together under-perform with Clinton's 47% of the vote share, that would be a sign that Trump's 2016 vote share in this district was unique to Trump and that Democrats could have trouble with other GOP congressional candidates in the midterm elections.
"If [Ossoff] gets 45% now, compared to the Hillary-Trump vote, I think that would be really disappointing and Democrats would have to struggle to make an argument that it's OK he somehow ran behind Clinton," Rothenberg added.
Which Republican, if any, makes the runoff
If the race heads to a runoff, as many are suggesting, it's worth watching which Republican candidate advances alongside Ossoff.
Former Geor­gia Sec­ret­ary of State Kar­en Han­del is the GOP front-runner among the GOP's 11-candidate pack. Polls show Handel consistently in the second-place spot behind Ossoff, albeit by a very slim margin.
Handel's name is well-known in the district thanks to her numerous statewide runs, including a failed Senate bid in 2014 and a failed gubernatorial bid in 2010 — a familiarity that could help her in such a crowded field. 
She's also held Trump at arm's-length throughout the race, which some Republican strategists say is a good position for a Republican in a district in which Trump under-performed.
"I think that's a very good position for a candidate that's reflective of what the district looks like," Chip Lake, a Georgia GOP strategist unaffiliated with any candidate in the race, said. "I think she's a good candidate for us in the runoff."
Businessman Bob Gray, who loaned his campaign $500,000, has tied himself to Trump, painting himself as an "outsider" who will "drain the swamp" in Washington, D.C. — taking a line from Trump's campaign.
"I think we have some more challenges if Bob Gray is in the runoff," Lake said. "Bob Gray has made it very clear that he'll do anything he can to support the president."
Gray, according to Lake, would be a "better contrast for the Democrats." 
The impact of GOP candidate infighting
If the race heads to a runoff, the question becomes whether Republicans will coalesce around the GOP candidate, despite the ugly attacks the Republican field has lobbed at each other throughout the race.
Gray has attacked Handel as a "career politician." And Republican candidate Dan Moody, a former state senator, is also running a not-so-subtle attack on Handel, depicting her as a pearl-wearing elephant and "career politician."
If Handel does advance to a runoff — which polling suggests is likely — she'll have to convince members of her own party that she's not a "career politician," a dirty phrase in politics these days.
Polls suggest a runoff between Ossoff and Handel would be competitive. And Democrats say they will still have the enthusiasm on their side.
"What we'll have to really be watching for in the weeks to come is whether or not Republicans can unify around whoever that Republican is," Ali Lapp, a Democratic strategist who runs a super PAC that backs Democratic House candidates, said in an interview. "Because there's clearly been a lot of beating up on one another, and are they able to heal those wounds?"
Lake added that Republicans can't take anything for granted if the race goes to a runoff. "I think we have to assume this will be competitive for the duration of the race," Lake said. 
"It's a special election; anything could happen."