NASA launch to be broadcast through 360-degree livestream feed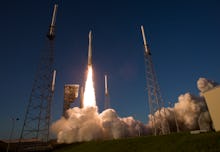 On Tuesday, NASA will launch the Orbital ATK's Cygnus spacecraft, the S.S. John Glenn, into space at Cape Canaveral, and viewers can see a full 360-degree view of its departure.
NASA will be broadcasting the world's first 360-degree livestream of a rocket launch for Tuesday's event. The immersive video will allow viewers to use their mouse or move their personal device to see every inch of the launch site at Cape Canaveral's Space Launch Complex-41. The livestream will be even better for anyone who owns a virtual reality headset, as NASA promises the view will be "as if they were actually standing on the launch pad."
The livestream will begin 10 minutes prior to the spacecraft's departure, which is currently scheduled to take place within a 30-minute window between 11:11 a.m. to 11:41 a.m. Eastern. Viewers can watch the livestream on the NASA Television Youtube channel.
Once it's launched into space, the Orbital ATK spacecraft will make its way to the International Space Station to deliver essential goods and equipment for the onboard crew and their ongoing research investigations. It will spend four months aboard the ISS, before a "destructive re-entry" into Earth's atmosphere in July.
Current research that will be supported by goods aboard the Orbital ATK spacecraft includes biospace research on growing fresh food in space, evaluating antibody-drug conjugates that help to combat cancer and RED-Data2, a device attached to vessels re-entering Earth's atmosphere that can communicate essential information about the extreme conditions these spacecraft face. 
The Orbital ATK spacecraft is named in honor of astronaut John Glenn, who passed away in December.