Fox News suggests Muslims stop bombing, burning people if they want better TV portrayals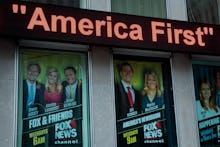 On Sunday, a few days after President Donald Trump dropped the "mother of all bombs" in Afghanistan, a panel of Fox News hosts told the Muslim community not to "set off bombs" if they want better media representation.
The comments came after Homeland actor Mandy Patinkin's interview with MSNBC on Friday. Patinkin, an advocate for refugees, was discussing Homeland's season-six storyline and its parallels to the United States' current sociopolitical climate. The actor said the show was dedicated to de-escalating the fear of Muslims and refugees. 
"In movies, it was the cowboys and Indians, the nazis and communists," Patinkin said. "Now, they've chosen the Muslim community — a community who has made contributions to the world of a monumental nature." 
Patinkin said he hoped Homeland would be part of the cure for the rising tides of xenophobia by straying away from terrorist tropes and depicting Muslims in a more positive light on the Showtime hit. Homeland's new storyline, according to Patinkin, would show "that maybe it's the ... white men in the government and the military establishment that are the bad guys, not the Muslim community."
Of course, the hosts over at Fox & Friends Weekend had a problem with Patinkin's remarks.
Here's a video clip, courtesy of New York magazine contributing writer Yashar Ali:
"Do we remember who the bombers of the Boston Marathon were?" cohost Jon Scott said. "I mean, just an aside to the Muslim community, if you don't want to be portrayed in a negative light, maybe don't burn people alive and set off bombs and things like that." Cohost Pete Hesgeth jumped in and said Muslims should also condemn Islamic extremism.
Several Twitter users pointed out the hypocrisy and flawed logic in their response:
To Hesgeth's point, Muslims do condemn extremism — all the time. Americans are far more likely to die by choking than at the hands of an Islamic extremist. In fact, counterterrorism experts have reported the influence of white nationalism on social media has grown by 600% to outperform ISIS.