Lady Gaga "The Cure" lyrics: Every verse to the song that debuted at Coachella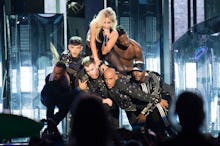 Lady Gaga took the stage at Coachella at 11:20 p.m. Pacific on Saturday becoming the first woman to headline the festival in 10 years. And while her presence alone can get people screaming, it was the debut of her new single, "The Cure," that really won them over. 
The song debuted halfway through her headlining set, according to Rolling Stone. It marks a return to pop after a brief departure to the land of country with her recent album Joanne — and it seems the decision was a good one. In just one day, "The Cure" shot to the No. 1 spot on iTunes in the United States.
"I love you guys so much," Gaga told the Coachella crowd, according to Entertainment Weekly. "I have been through so much in my life and I've seen so much. And you cure me every time with your love."
"The Cure" is a sincere homage to her fans, as evidenced by listening to the song and its lyrics.
"The Cure" lyrics
Here are the lyrics to "The Cure," according to Genius.
I'll undress you, 'cause you're tired
So baby tell me yes
If i can't find the cure, I'll 
Rub your feet, your hands, your legs
So baby tell me yes
If I can't find the cure, I'll 
I'll fix you with my love
If I can't find the cure, I'll
I'll fix you with my love
In the opening lines, it sounds like Gaga is a mom talking to her children or "Little Monsters," as her fans are called. The chorus feels akin to other Gaga songs that advocate for marginalized groups and people who've been abused. 
It also sounds like a love song to anyone who has experienced a breakup, which Gag experienced recently when she split with fiancée Taylor Kinney not too long ago.
Regardless of the motivation, "The Cure" has effectively swept fans off their feet, and is hopefully just a taste of more new awesomeness to come. 
Mic has ongoing Lady Gaga coverage. Check out our Lady Gaga hub here.