Will Kendrick Lamar drop a second album? 'Damn.' feels incomplete, but that's the point.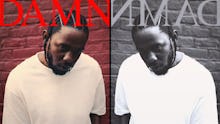 All cultural figures that die on a Good Friday do not return on Sunday. The hip-hop world had to come to terms with this fact this weekend after obsessing over the possibility that Kendrick Lamar had a second album in the chamber ready to follow Damn. There's a song called "Blood;" there has to be a "Crip," conspiracy theorists explained. The "M" in Damn. appears to give Lamar devil horns on the album's cover; there has to be a cover with an "O" to anoint him once more.
These theories convinced some dedicated hip-hop fans and critics, partially because Lamar appreciates a good yin yang and usually never passes up the chance to take advantage of a metaphor. Damn. too feels incomplete, like it ends with an ellipses. In short it listens like Lamar filmed himself opening Pandora's box — capturing the whirlwind of life's evils and mysteries spewing into the world — without bothering to turn the camera to show us what was left at the bottom.
But Sunday came and went. Believers went to church, scenesters went to Coachella — and nothing new materialized. One Reddit devotee had to eat a vinyl over it. Damn. is all we have for Lamar's fourth era, and that is a bewildering fact to face.
What are we supposed to make of these 14 tracks and the paranoid and vindictive Lamar portrait they paint? The intensity of his emotions vacillates wildly song to song, as it has on albums before, but it's though he's raging at something just out of view. Lamar doesn't play narrator to help the listener stitch the sketches fit together. It may be the most rewarding album in Lamar's recent catalog, but it requires a little more from the listener to give its parables full shape.
Kendrick Lamar 'Damn.' and its unanswerable questions
For an album made up of track titles riddled with periods — each styled like a declarative, one-word sucker punch — it asks a lot of questions: 
"Is it wickedness; is it weakness?" the album's opening lines intone. 
"Why God, why God do I gotta suffer?" Lamar spits on "Fear." 
"Why, why, why, why?" the mysterious B?kon sings on the track's closer, "Duckworth."
They're not new questions by any stretch of the imagination. They're the first group any new religion or philosophy must address before declaring itself a definitive -ism. Yet 2,000-plus years of human experience haven't made them any easier to answer. 
Strangely, they come presented over music that's far more accessible than Lamar's past work. To Pimp a Butterfly signals to the reader with its very first tottering bass notes and jazz flurries that it is a "deep album." It and Good Kid M.A.A.D. City parlay with life's ultimate darkness in a far more theatrical ways, creating clean heroes myths. Lamar tracks his progress through the latter album with a central poem that grows track to track: "The evils of Lucy was all around me/ So I went running for answers/ Until I came home."
On Damn. Lamar seems almost bitter about that wasted effort. "Last LP I tried to lift the black artists," he raps on "Element." looking back at TPAB. "But it's a difference between black artists and wack artists." 
God Damn. us all
Damn. isn't nearly as forthcoming with its depth, and Lamar interested in engaging every person who presses play on that deeper level. The album's Mike Will-Made-It, 9th Wonder and Alchemist beats and Rihanna features are nostalgic and welcoming at times, a straight thrilling joyride at others. The shots his songs take on loved ones who no longer pray for him on "Feel.," other rappers on "Humble.", Fox News on "Yah." are visceral and satisfying. He's not quite interested in making sure any of these people come away understanding exactly how they misjudged him.
"Damned if I do, if I don't," he sings on "Element.," toying with his future. Though there still needs to be someone, some kind of guide: "God damn us all if you won't."
Damn. is fascinated by these hypocrisies, a holdover from Lamar's controversial "Blacker the Berry" where he declared himself "the biggest hypocrite of 2016." He builds it further on "XXX." — one of the album's hardest tracks with one of its softest features, U2 — recommending vengeance to an acquaintance who comes to him for advice, before hopping out of the car to speak at a gun-control convention. 
"Pray for me," Lamar raps before an echo responds: "Damn!"
Despite all the urgent pain the album describes — post election regrets, the ongoing threat of police violence, the vilification of the black man — the album stays joyous. It has fun in the same way that even the most hardcore gun-control advocate would still enjoy blasting cans off a stump with a .45. Lamar pretty much sees his rivals this way, as inanimate targets, and mirthfully disses all levels of their family trees and evolutionary histories: "Daddy prolly snitched, heritage inside your DNA," he raps on "DNA." "Backbone don't exist, born outside a jellyfish, I gauge."
This lyrical exercise is where Lamar finds the most stable and solid ground. Making headway on life's biggest questions — fate and coincidence, life and death, D'usse or Deuteronomy — isn't nearly as gratifying as cutting a brutal 16-bar phrase, hanging with legends like 9th Wonder and Kid Capri or resurrecting old Juvenile flows. It's what he was put on earth to do after all.
Fear, what happens on Earth stays on Earth
It's difficult to say whether rap is enough to disperse doubt after the album's closer, its crucial illustration of free will, "Duckworth." The album ends by rewinding itself, ready for the listener's next pass. 
That mobius strip ending is part of Damn. mystique and its unfinished quality. Perhaps it will have a companion yet, but it's important the listener be empowered to unpack its tangled allusions on their own. Because Kendrick is sick of being the only voice of reason and inspiration around.
"Are we gonna live or die?" the album asks right off the bat, a key line in the two album theory. Lamar isn't going to spell it out for you any longer: "You decide." 
More Kendrick Lamar news and updates
Mic has ongoing coverage of Kendrick Lamar's rise. Check out our review of his previous To Pump a Butterfly and a breakdown of the structuralist and culturalist theories of racism that clash at the album's heart. Read up on the story of his rise from Compton local favorite to king of the West Coast, alongside a list of his best guest verses, a breakdown of the lyrics to "The Heart, Pt. 4" and " Humble" and an investigation of how "Alright" became a go-to protest anthem.