Majority of Americans think marijuana is "socially acceptable," poll shows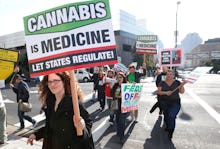 A survey of Americans' views on marijuana found that a majority of people think the drug is "socially acceptable" — a position that likely puts them at odds with U.S. Attorney General Jeff Sessions, who said in March that a marijuana habit is only "slightly less awful" than heroin addiction.
The poll, conducted in March by Marist in partnership with Yahoo News, surveyed 1,122 U.S. adults and found that 56% said using marijuana was socially acceptable, compared with 42% who said it was socially unacceptable and 2% who were "unsure."
The survey also revealed that 49% of respondents, nearly half, said they supported legalizing recreational marijuana. So far, Alaska, California, Colorado, Maine, Massachusetts, Nevada, Oregon, Washington and the District of Columbia have all legalized the recreational use of marijuana. But the drug is still illegal at the federal level — it's federally classified as a Schedule 1 drug, the same level as heroin.
The Obama administration moved away from enforcing federal drug law in the states that had legalized marijuana for recreation or medical uses, but that could change under the Trump administration. Sessions has indicated he wants to revive the war on drugs, which could mean taking a harsher stance on enforcing marijuana policy.
However, as the new Marist/Yahoo News poll found, marijuana use is fairly widespread. Fifty-two percent of respondents said they had tried the drug at least once. And 54% of people who said they use marijuana are parents. 
If Sessions moves forward on plans to crackdown on marijuana use, it's likely to be an unpopular decision — the poll found that only 30% of respondents thought that the Trump administration should be tougher than former President Barack Obama on enforcing federal laws against the recreational use of marijuana.