Mother's Day 2017 Gift Guide: Best gifts for moms who love to cook and eat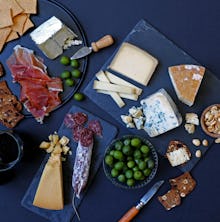 Every Mother's Day brings a new and unique challenge: What will your mom actually like? Sure, she may smile graciously at a bright bouquet of flowers or another gift certificate for a pedicure, but why not get her something she actually wants and would never get herself? For the mom who likes to cook, or loves to eat, Mother's Day 2017 brings a slew of food-themed gifts that any parent would really love.
S'well Terra bottle: $50
This limited-edition bottle designed by S'well's in-house illustrator Michela Buttignol celebrates Mother Earth and is a seriously unique and practical piece of art for mom to display in her kitchen and tote with her wherever she goes to keep water (or that covert wine) completely cold. 
Guzzle Buddy: $24.99
Your mom has a lot on her mind. If pouring a bottle of wine into a glass seems like too much, or just a waste of a clean cup because she's going to drink the whole bottle anyway, gift her this handy beverage appliance that neatly turns a bottle into a single serving. 
Sugarfina Sweetest Mom bento box, $65
Show mom you really love her with some gloriously expensive candy, presented in a tidy bento box organized just perfectly for the organized mom. The selection of eight types of candies includes rosé flavored rose-shaped gummies, luminescent chocolate pearls and more. 
Best of the West beef box, $209
Fill your meat-loving mom's freezer with a selection of meats to last the month of May, if not beyond. This gift set includes ranch-raised Idaho beef ranging from a 2-pound bone-in rib eye, two 8 oz filets mignons, 2 pounds of ground beef and more. 
Taste of Rao's, $88
Anyone who knows grocery store pasta sauce knows that Rao's is above and beyond the best jarred tomato sauce money can buy. And that's why it usually costs twice the price of your basic Prego marinara. Give mom a grocery upgrade with this luxe gift pack including a selection of Rao's sauces, dried pastas, jarred condiments and more. Mama mia!
Wake-up call breakfast gift set, $24.99
If you can't be there to cook mom breakfast in bed, give her the next best thing: The kit to make breakfast for herself. Go the extra mile and offer to FaceTime her for bonus points while she whisks up blueberry lemon lavender and chocolate flapjacks.
Black and Decker Wi-Fi Enabled Slow Cooker, $49.96
For the cool mom who wants to add some emojis to her slow cooking, this Wi-Fi enabled slow cooker will let her use an app to set the timing, switch heat settings and get her food ready to eat — all while out of the house! 
Kate Spade Out To Lunch tote, $30
If mom brings her lunch to work or is trying to practice her meal prep, this cute tote makes a sad sack lunch look completely adorable and refreshing. 
At-home European rosé tasting, $49
Skip the bouquet of roses and go for a six-glass pack of rosés from Italy and France. Not only are the tubes the perfect size for a single-glass serving, so mom can work her way through the shades of pink in a single sitting, they're also slim and discreet should she need to sneak a tube of rosé into your next family event... 
The handiest cookbook, $21
Mom may be a pro cook or she may be continuously building her skill with the help of the Food Network, but either way, a beautifully illustrated and super informative book never hurt anyone's kitchen skills. 
Dottie honey pot, $20
Show your mom how sweet she is with this adorable bear-shaped honey pot that adds a touch of sweetness to her kitchen decor. 
The MVP: Most Valuable Platter, $125
Show mom she's your MVP with this easily shareable cheese gift set that includes gruyere, clothbound cheddar, Point Reyes blue, prosciutto, olives, crackers and more tasty snacks. 
Woven market backpack, $80
If your mom's really into farmer's markets, picnics or just looking really chic and European, this woven basket tote that can be worn like a backpack is a seasonal and useful gift.
Yoga pose food cutters, $40
For the mom who is almost as into baking or pancake making as she is dedicated to yoga, these cookie cutters demonstrating some intense yoga poses will help her stretch her skills in the kitchen. 
Grub Mugs, $20
Mug cakes were pretty much invented for moms, who will never stop thinking these single-serving microwave miracles are so clever. This set of four mugs shares breakfast, entree and dessert recipes that can all be cooked in a mug! 
Gold mixing bowls, $49.95
Baker, chef or salad maker, mom will love these shiny new bowls that will allow her to finally get rid of whatever grody plastic bowls she's been stirring in for too many years. 
Maille honey and mustard collection, $40
If your mom is a condiment queen, spoil her with these luxe condiments that will make spring sandwiches, salad dressings and more extra tasty. This gift set includes three pastel-colored jars of mustard infused with acacia honey from France. 
Jacobsen Salt Co. sampler, $35
Spice up mom's life with this set of six gourmet salts — pure flake salt, sweet onion salt, habanero salt, garlic salt, black pepper salt and black garlic salt —that will season her food in all sorts of new ways. Plus, a cute wooden stand lets her display the gift her amazing kid gave her.
Lemon curd tart, $48
Sometimes a gourmet dessert is all you need to please mom. The tart comes frozen, so you can ship the sweet from afar if you won't be together but want to share some sugary bites.