A timeline of terrible events broadcast on Facebook Live — and why Facebook can't stop it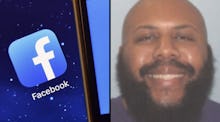 Facebook Live is turning into a digital diary of graphic, violent activity. The livestreaming service has a dark side: footage of rapes, torture and suicide are being broadcast on the platform with relative frequency.
The most recent discussion about Facebook Live and livestream regulations resurfaced after a man named Steve Stephens shot and killed a 74-year-old named Robert Godwin Sr. on Sunday in Cleveland, Ohio. While authorities said the 37-year-old Stephens broadcast the murder on Facebook Live, the social media giant said the video of the killing was posted but not streamed live on the site.
"This is a horrific crime and we do not allow this kind of content on Facebook," a Facebook spokesperson said. "We work hard to keep a safe environment on Facebook and are in touch with law enforcement in emergencies when there are direct threats to physical safety."
Facebook Live was launched with the goal for users to "discover, share and interact with live video." Any user can broadcast video in real time while their friends, family and — privacy settings permitting — people around the world tune in to react and comment live. People use the feature in different ways: Media outlets show live footage from national events, influencers and celebrities host Q&As and some nefarious folks use it to stream violence. Here's a brief history of violence on Facebook Live:
Facebook Live's disturbing history
People have used Facebook Live to broadcast an array of violent or graphic activities, from assault and suicides to torture and child abuse.
June 13, 2016: After murdering a police officer and his partner in France, a French ISIS supporter turned on Facebook Live to make more threats.  
Oct. 10, 2016: Erdogan Ceren, a 22-year-old living in Turkey, shot himself during a livestream after breaking up with his girlfriend. Before firing, he says in the video, "No one believed when I said I will kill myself. So watch this."
Jan. 3, 2017: A 30-minute Facebook Live broadcast showed four people torturing an 18-year-old with special needs. The attackers kick and punch the victim and cut into his scalp while saying things like "fuck Donald Trump" and "fuck white people."
Jan. 19, 2017: Shayla Rudolph of Ohio was charged with abduction after she broadcast taping her 2-year-old son to a wall using clear packing tape. Authorities believe the child, whose mouth was covered, was taped for 15 minutes.
Jan. 21, 2017: Three men raped a woman in Sweden and broadcast it live on Facebook. The company turned over the footage to Swedish prosecutors, who made three arrests in the case.
Jan. 22, 2017: Fourteen-year-old Nakia Venant ended her life after in the bathroom of her foster parents' home.
Jan. 23, 2017: Aspiring actor Frederick Jay Bowdy broadcasting his death on Facebook Live from his car in North Hollywood. An out-of-state family member made a call to the Los Angeles Police Department after viewing the stream.
March 20, 2017: The rape of a 15-year-old Chicago teen by at least five to six males was broadcast on Facebook Live. The video was removed by Facebook.
April 3, 2017: Arjun Bharadwaj, a 24-year-old in India, took to Facebook Live to explain his decision before ending his life in Mumbai.
Livestreamed violence is becoming more common
Livestreaming graphic content is not exclusive to Facebook. Arguably, anywhere there's streaming capabilities, there will be graphic and violent footage. Last year, a 19-year-old French woman streamed her suicide on live video streaming app Periscope, and an Ohio teen also used the Twitter-owned app to livestream her friend's rape. In December 2016, 12-year-old Katelyn Nicole Davis ended her life in a 40-minute live video posted through Live.me — a social platform for creating and viewing live videos.
In cases of rape and murder, it's unclear why criminals share footage of their illegal activities online. "Stupidity comes to mind," Raymond Surette, a professor of criminal justice at the University of Central Florida, told the Guardian. "You might as well go down to the police station and commit the crime in the lobby." 
Social media attention could also be a motivating factor.
"It speaks to a kind of scary place in the culture where people are willing to expose their misled ideas, their sadism, their sexual perversion, their felonious behavior, for the accolades they'll receive through social media," N.G. Berrill, executive director of the the New York Center for Neuropsychology & Forensic Behavioral Science, told the Atlantic.
While some users have turned to Facebook Live to stream videos of their suicides or heinous crimes, others use it to chronicle violence from a different perspective. Last July, Diamond Reynolds livestreamed her boyfriend Philando Castile dying after a police officer in Falcon Heights, Minnesota, fatally shot him after they were pulled over for a broken tail light. In the 2016 Dallas sniper shooting, a bystander used his smartphone to stream what was happening in real time. This year, an unarmed New Orleans man was shot by a Tennessee police officer while broadcasting on the livestreaming service.
Can Facebook Live do anything to stop disturbing content?
Facebook first introduced its livestreaming features exclusively for celebrities and public figures in 2015 before rolling it out to the masses in April 2016. According to CEO Mark Zuckerberg, the goal of Facebook Live is "to create, share and discover live videos." Now, with nearly 2 billion monthly active users on the platform, the feature has its own shortcut, dedicated push notifications and a formal landing page with a map spotlighting where broadcasts are coming from around the world.
In light of the misuse of the platform, Facebook shed insight into how it tackles "sensitive siutations" last June by telling users what measures it has in place. The company shared that it has a dedicated on-call team around the clock to respond to reports and users can report a broadcast for review — a single report is all it takes to get something reviewed and a reviewer from Facebook has the power to interrupt a stream. But this move leaves policing largely to the users.
In March 2017, Facebook took a more active step by launching real-time suicide prevention tools within its livestreaming service. When a user is watching a broadcast, they have the option to report the stream to Facebook if they're concerned about a friend's wellbeing. This triggers various resources — contacting a helpline, seeing tips about coping and reaching out to a friend — to become available to the individual streaming.
"Some might say we should cut off the livestream, but what we've learned is cutting off the stream too early could remove the opportunity for that person to receive help," Facebook Researcher Jennifer Guadagno told TechCrunch.
Editor's note: For information about suicide prevention or to speak with someone confidentially, contact the National Suicide Prevention Lifeline at 1 (800) 273-8255 or the Crisis Text Line at 741741. Both provide free, anonymous support 24 hours a day, seven days a week.