NYC gay bar ReBar under fire for allegations of discrimination against people of color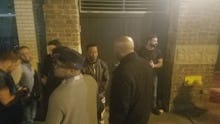 ReBar, a new gay bar in New York City's Chelsea neighborhood, is at the center of multiple racial discrimination allegations after a number of patrons posted nearly-identical accounts of being racially profiled by the club's bouncer.
The complaints have become a veritable social media movement, with many threatening to boycott the bar, as well as encouraging others to, with hashtags like #boycottrebar, #rebarsowhite, #rebarnycnotforme.
It all started on Saturday when one patron, Ian Alexis, took to Facebook to air his grievances and claimed that ReBar had turned his party of 10 men of color away due to the bar being at capacity. Let in later by an employee he knew, Alexis said he discovered the bar was nearly empty.
"Shock... Embarrassment... Upset... It was a combination," Alexis said in an interview with Mic when asked to describe his emotional state after the incident. "I actually kinda felt helpless."
Alexis' status prompted others to speak out. "Wow!! We had the SAME experience," one Facebook user wrote. "Two of us got in, walked around the entire bar waiting on our three remaining friends to come in. They never did! I went outside and asked why were they still waiting. Meanwhile they were letting those not like us in before my friends."
The reviews section of the bar's Facebook page further corroborate both of these claims. 
"I came to this establishment with about 30 patrons and was told that the club had reached 'capacity,'" one user wrote. "My boyfriend had a friend that was working the door and he allowed 3 of us in the bar. To our surprise, the club was nowhere near capacity. It was full of Caucasian patrons and maybe 5 African-Americans."
Another attendee, Gunna Blaque, posted another nearly identical story of his own experience there. "I'm a multiracial southerner, so I am use to it," Blaque said in an interview with Mic. "When it happened to me, I brushed it off as maybe a bad night, maybe I was looking too deep into it. But I had friends in town recently and when they informed that this had happened, I was like that's the final straw."
For its part, ReBar remains largely unapologetic. On Facebook, one man, who said he worked at the bar over the weekend, wrote that these claims are entirely false. 
"Our clientele was wildly diverse both shifts and everyone who works here is open minded [as fuck]," wrote Tyler Andrew. "Not to mention half the staff is not white. We had a line down the block as well so I know capacity is a major issue... So, yes, they still turn people away, but it has nothing to do with ethnicity ... That would NEVER be the intention of our staff. Ever."
Many within the tight-knit LGBTQ community in New York City have already taken to social media to voice their support for those who were turned away, vowing to take their money elsewhere.
Some took issue with the bar's "no baseball hat" rule, like veteran New York City nightlife empresario Frankie Sharp. "It's so archaic and absurd and obviously directed towards a crowd they believe to be undesirable. That's not building a safe space thats building a segregated space. It's clearly a low-key way to be racist in the guise of business policy which is so transparent. I hope they reconsider this policy as would be more inclusive and in turn more successful."
Repeated calls to the bar went unanswered, but someone who identified as a manager gave a non-statement to Edugaytion: "We have no statement. The situation is not real. ... We're not going to give it credence at all. ... We do not want to expand upon that. If we did, we would do it online."
"A business owner has a right to market to whoever they want I guess but I'm not going to be quiet about it when it's something like this," Alexis said. "We already have hate against us for being gay but just a smack in the face to have to deal with that here in NYC from other gay people."
We will update this post if and when we hear back from ReBar.