'Star Wars Battlefront 2' Season Pass: EA likely won't require a pass for DLC content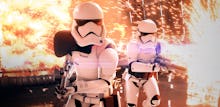 Over the weekend, it sounds like the creative director for Star Wars: Battlefront 2 let the cat out of the bag a little early when it came to revealing plans for the upcoming game's DLC plans. The last Battlefront title's season pass was heavily criticized, and we want to know what EA is going to do concerning game content. Will they split it up four ways like they did last time, or will they go the way of Titanfall 2 and make new content free for all?
Star Wars Battlefront 2 Season Pass: What's EA doing different this time?
In an interview with Mashable, Bernd Diemer said that the game flat-out "[won't] have a season pass" before Electronic Arts pulled a these-aren't-the-droids-you're-looking-for Jedi hand wave, walking that early reveal back a bit. Now, the official stance is that EA's "not ready to confirm any live service plans just yet." Whoops.
Regardless of what Electronic Arts is saying about DLC plans for Battlefront 2 now, it's probably safe to expect the DLC model will differ substantially from that of 2015's Star Wars: Battlefront, which sold expansions piecemeal — or bundled in its all-inclusive season pass.
On its face, this lack of a season pass might sound like bad news — after all, since 2015's Star Wars: Battlefront was incredibly heavy on the add-on content, you might have just been hoping to buy a single bundle for everything. However, this seems to signal a much healthier, consumer-friendly model for the franchise moving forward.
In simpler terms: You probably won't have to spend as much money to get all the good stuff. Here's why.
Star Wars: Battlefront 2 Season Pass: Why no season pass is cause for celebration
From the sounds of it, Battlefront 2 will probably go the Overwatch and Titanfall 2 route of not charging players for maps and modes — and, instead, only sell players mostly cosmetic items. The evidence? In the interview mentioned above with Mashable, Diemer said DICE's plans for its DLC were specifically designed to avoid fragmenting its player base.
"I cannot talk about the specifics of this, but we have something different in mind that will allow you to play longer, be [more] invested in the game without having a fragmented community," he said.
It's hard to know exactly what this means, but it sounds like DICE learned from the first Battlefront that selling maps and modes isn't a great plan. First of all, this model shortens the lifespan of a game's online health by way of fragmenting its players into haves and have-nots. Secondly, it frustrates consumers who can't play with their friends unless everyone has the cash to buy the game's latest expansion. 
So, not only does the old-school model seem to be less profitable in the long term, but it also pisses off your fans.
Instead, games like Overwatch have proven that it's much smarter to just give content away for free — like in its newest Uprising event — and charge players only for cosmetic items. That way, if you've been out of the game for awhile but want to hop in and try out a new update, you won't have to shell out $15 or $20 to do so. You can just download the update for free and get back into it.
It'll likely be a while before Electronic Arts or DICE officially reveal its DLC plans — but for now, it looks like good news.
Star Wars: Battlefront 2 Season Pass: Trailer and release date
If you missed the official announcement, Star Wars: Battlefront 2 has a release date of November 17 on PS4, Xbox One and PC. The newest trailer is embedded below.
More gaming news and updates
Check out the latest from Mic, including our deep dive into how female Overwatch players are dealing with online harassment, an article about a fan movement advocating for more same-sex romance options in Mass Effect, a personal essay to JonTron from another Iranian-American and an article looking at cultural diversity in Overwatch.