What Melania Trump wore her 13th week as first lady — Easter Egg Roll and beyond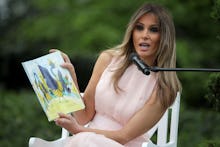 Well, well, well. Look who's back. 
After one week of dodging photographers, first lady Melania Trump had a remarkably public week these past seven days. 
There was Easter, and there was the White House Easter Egg Roll. At each of these events, Trump continued to dress predictably, shunning trends for her tried and true loves: light colors and a cinched waist. 
At this point, nearly 100 days into her time as first lady, Trump has irrefutably created a style all her own, influenced by ladylike silhouettes, a tendency to wear exactly the same colors and a talent for wearing super-high heels at every turn. 
Here is what Melania Trump wore her 13th week as first lady. 
Friday, April 14: A casual repeat for a shelter visit 
At the tail end of last week, after our own weekly report came out, Trump made her first appearance in Florida, at a shelter for families affected by domestic abuse. 
For that event, Trump wore the most casual outfit we've seen from her yet: white pants that could be the very same ones she wore on Super Bowl Sunday, and an Army green shirt. 
Neither of these pieces have been officially ID'd so far, but the shoes were actually not Christian Louboutin this time (no red soles!), and may have been from Italian designer Rene Caovilla instead. 
Sunday, April 16: White Simone Rocha for Easter
On Easter Sunday in Florida, Trump wore a semi-sheer white sleeveless dress by Simone Rocha, an Irish designer, and paired it with a thin gold belt. As for the neon pink shoes, those were Louboutins, of course. 
Monday, April 17: Pink Hervé Pierre for the White House Easter Egg Roll 
To the annual White House Easter Egg Roll on Monday, Trump showed up in a billowy light pink dress that went down to her ankles in a very signature Trump silhouette, with a nipped-in waist that instantly gave it a 1950s allure. 
The dress itself was designed by Hervé Pierre, a Trump household name at this point, and a designer Trump has now gone to the most often as first lady, including for the inaugural ball. And this time, rather than wearing her signature Louboutins, she opted for baby pink flats. 
What Trump showed us this week is just how committed she is to the silhouettes she knows work for her, with a nearly-constant cinched waist and dresses that always fall below the knee. It's all very '50s housewife of her. 
You can see previous recaps of what Melania Trump wore here.