Becca Longo believed to be first female recipient of college football scholarship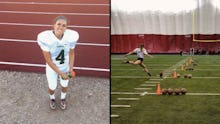 A high school senior in Arizona just became the first female football scholarship recipient at an NCAA Division II school or higher, according to ESPN. 
Becca Longo has signed a letter of intent with Adams State University in Alamosa, Colorado, according to CNN, after sending out her highlights reel to various colleges and adding Timm Rosenbach, the head football coach at Adams State, on Twitter. That caught his eye, and got him to watch her tape.
"If she's able to compete at a level we think she's able to compete at, we should afford her that opportunity to do that," Rosenbach told CNN. 
Longo told ABC that she started playing football as a sophomore, but then transferred to Basha High School in Chandler, Arizona. She wasn't able to play junior year but joined the Basha Bears in her senior year as a varsity kicker. Rosenbach told CNN that, after viewing her reel, an Adams State recruiter went to see her in Arizona. Longo visited the school in February. 
"I kind of put the ball in her court," Rosenbach said. "She took advantage of that, and I was impressed, not only as an athlete but as a person."
For her part, Longo said she is surprised to play college ball, especially after her doctors predicted injuries would keep her on the bench. Longo said she thinks girls should just "do what you love," gender conventions be damned.
"If they want to play football, go out and play football. If they want to play hockey, they can go out and play hockey," Longo said on ABC's Good Morning America. "Just don't listen to all the negativity because you're going to get a lot of it."
According to ESPN, roughly a dozen women have played college football, but Longo is the first known scholarship recipient. She's ready for it.
"I'm going to go in, I'm going to be ready to compete," Longo told CNN. "I'm not one to back down to anybody."