Who won the Boston Marathon? Here's the 2017 winner's list.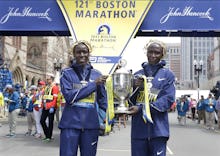 Runners from all over the world took to the Boston streets on Monday for the Boston Marathon. While tens of thousands participated in the iconic event, a few talented marathoners came out on top.
The 26.2-mile race kicked off early Monday morning, and the marathon's top runners made it to the finish line in just over two hours. According to RunTri, the average marathoner will spend four hours and 24 minutes running a race.
Here are 2017's marathon winners, as listed by the Boston Athletics Association.
Men's Elite
The first male runner to cross the finish line was Kenyan competitor Geoffrey Kirui, with a time of 2:09:37. American Galen Rupp of Oregon finished just 21 seconds behind Kirui to take second place.
Women's Elite
Kenyan runner Edna Kiplagat took the women's division with a time of 2:21:52, crossing the finish line a full minute ahead of second-place finisher Rose Chelimo of Bahrain. Third-place runner Jordan Hasay of Oregon was the first American woman to cross the finish line, earning a time of 2:23:00.
Men's Wheelchair
In the wheelchair division, Marcel E. Hug of Switzerland took the top men's spot, setting a course record with his time of 1:18:04 and edging out South African marathoner Ernst Van Dyck by less than a second. This was Hug's third straight marathon win, according to Boston Magazine.
Women's Wheelchair
The Swiss got another win in the women's wheelchair division, as Manuela Schar came out on top with a time of 1:28:17. Illinois competitor Amanda M. McGrory took second place, finishing five minutes later with a time of 1:33:13.
Men's Handcycle
The competitor with the fastest time overall was in the men's handcycle division, as New Yorker Tom Davis finished the 26.2-mile course in just under an hour, with a time of 0:58:36. Davis would be the only competitor in his division to cross the finish line in less than an hour, with second-place finisher Alfredo De Los Sanchos — another New Yorker — earning a time of 1:03:05.
Women's Handcycle
Americans got two first-place wins in the women's handcycle division, as Michelle R. Love of Minnesota claimed the top women's spot with a time of 2:39:05.