Who is Sister Catherine Cesnik? 4 things to know about Netflix's murder-mystery docuseries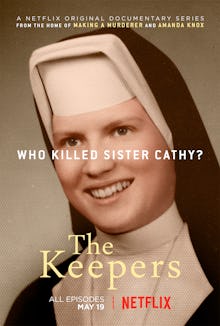 The unsolved murder of a young Baltimore nun whose death may have been related to a church sex abuse scandal will be explored in the upcoming Netflix series The Keepers.
The seven-part docuseries, which is available for streaming on May 19, will examine the death of Sister Catherine Cesnik and the unanswered questions that have plagued the case for almost 50 years — including Cesnik's possible link to a church sex abuse scandal. 
Who was Sister Cesnik? 
The 26-year-old nun was a teacher at Archbishop Keough High School, where she taught English and drama. She was a popular teacher whose students compared her to Maria von Trapp from The Sound of Music. 
When did she disappear?
Cesnik disappeared Nov. 7, 1969. Her body was found two months later in a field of Lansdowne, was badly beaten. The cause of her death remains unsolved.
The investigation and case 
The case's initial investigation was inconclusive, and the case has been re-examined over the years. A new wave of interest was sparked in the 1990s when A. Joseph Maskell, a priest who worked at the school, was accused of being implicated in Cesnik's death. 
The church scandal 
Maskell worked as the school's chaplain and psychological counselor and denied allegations of abuse and knowledge of Cesnik's killing. However, in 1994, he was placed on a leave of absence and was forbidden to perform priestly duties after allegations of molestation surfaced. He died in 2001, but approximately a dozen people who claim they were molested by Maskell received settlements by the Archdiocese of Baltimore. 
A group of Cesnik's former students have conducted their own investigation into her death. One of the women told the Huffington Post that Cesnik was the only adult who suspected what was happening and tried to intervene on their behalf. Another woman recalled visiting the teacher at her apartment when Maskell and Father E. Neil  Magnus, another man accused of abusing the students, appeared at her door. Cesnik disappeared the following day. 
Mic has ongoing Netflix coverage. Please follow our main Netflix hub.