Berkeley brawl protester punched by white supremacist shares her story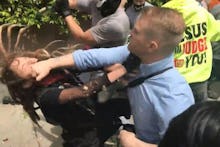 Louise Rosealma was punched in the face during a protest Saturday in Berkeley, California. It didn't take long for the video to go viral — and for her inbox to become flooded with threats of rape and violence from the "alt-right." 
"It was pretty immediate," Rosealma said in a phone interview Monday. "It just caught like wildfire, it was being shared around like crazy."
Rosealma, a 20-year-old self-described anarchist, was hit by a man later identified as white supremacist Nathan Damigo. While some outlets, Mic included, described the violent protests as a clash between pro and anti-Trump groups, the reality was more complicated. As Esquire reported, many of the altercations were actually between far-right, neo-Nazi and white supremacist groups and the black bloc anti-fascists and anarchists who showed up to counter them. 
Who was there on Saturday?
Rosealma, who preferred to be identified by the name she uses on social media for safety reasons, was one of the masked "antifa," or anti-fascist, activists who came to Berkeley to oppose groups she knew would be gathering there.
"We just wanted to be present and show that we don't agree with what they're doing, that they're not going to be able to just show up in public and rally for racial genocide and rape and really terrible things," she said. 
Not everyone who had gathered on the "pro-Trump" side was an avowed neo-Nazi: Some protestors who came to Berkeley on Saturday were Trump supporters who described feeling uncomfortable with the presence of apparent white supremacists, the Guardian reported. But others were people who had come ready to share their anti-Semitic and racist ideologies.
To Rosealma, Saturday was "not at all" a conflict between Trump supporters and critics. "There were people throwing [Nazi] salutes all over the place," she said.
Preparing for a clash
Though she expected there to be violence, Rosealma says she didn't show up to pick a fight. She had shared a post on her Facebook page while she was on the way up to the protest that alluded to coming home with "Nazi scalps" — a comment alt-right groups have since highlighted — but Rosealma said it was a joke that's been taken out of context. 
"I quoted the Tarantino movie Inglourious Basterds, to get a hundred Nazi scalps," she said. "So I was making a joke about it. A lot of people have been like 'Oh, she went up there looking for a fight,' and that's really not it at all." 
"I'm five-foot-one and 95 pounds," she added. "I don't really know how to defend myself."
The attack that went viral
The video of Rosealma being punched is from a moment of chaos during the protest. "It happened very, very quickly," she said. The way Rosealma remembers it, a smoke bomb had just gone off — possibly set off by a protester — and "out of the confusion ... the neo-Nazis and alt-right charged." 
Rosealma said she and her friends were "fleeing" when she was separated from her group, including her boyfriend, when she got "caught in a corner." 
"There was a flurry of men in between me [and my boyfriend], they were pushing me and my eyes were burning from pepper spray and I remember turning around, and seeing someone with their fist pulled back," she said. "The next thing I knew I was getting punched in the face and toppled over ... I didn't see it coming at all."
Accounts of Saturday's protest seem to indicate that violence was coming from both sides. One eyewitness who said he watched the protest for hours, and spoke on condition of anonymity, said he believed the "black bloc kids" had instigated the violence by throwing "trash" and "fireworks" at groups of Trump supporters.
Rosealma described herself as a flee-er, not a fighter. In the moment she was hit, she said she wasn't trying to fight anyone, but rather "push people off" her so she wouldn't get injured. 
Soon after she left the protest, Rosealma realized thousands of people were already sharing the video of her.
"I was almost immediately identified because my mask was off," she said. "This is just the perfect example of why antifa masks up, because we don't want to be identified by neo-Nazis."
It didn't take long for the harassment to start
Rosealma said her inbox began filling with rape and death threats, and people were "flooding" her Facebook and Instagram. Scared for her safety, she rushed to change her privacy settings from her phone, but people still found her home phone number and her father's email address. 
"They were harassing my mom at home," she said.
On alt-right blogs and forums, online users mocked Rosealma. On one misogynist blog, she was called a "a female antifag." Nude photos are also circulating of Rosealma, who's been a nude art model and once did a pornographic photo shoot.
"They're calling me a prostitute and a porn star, which is funny because I've only done one pornographic shoot in my whole life, and it was just this one shoot for a site," she said. 
"They're sharing it to shame me and to degrade me, and I'm not ashamed of my body or my sexuality or anything that I've done. I'm not ashamed that I did it. It just really sucks that they're doing it maliciously." 
Rosealma's been getting support, too. She gave a friend permission to start a GoFundMe to raise money to cover her medical expenses and potential legal fees, and as of Monday afternoon, it had raised more than $5,000.
Even fictional Nazi-puncher Chris Evans, who plays Captain America, seemingly offered to get involved on Rosealma's behalf. The actor tweeted the video of Rosealma's attack along with the message, "I hope I run into Nathan."
Although she stressed she was trying to flee, not fight back, in the moment Damigo allegedly punched her, Rosealma said she still believes physical resistance is crucial to fighting alt-right ideology. 
"I do think that every tactic is needed in order to make the wheel turn," she said.